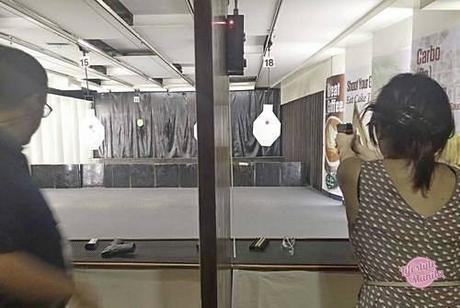 It's never too late to find a new hobby, even a nerve-wracking one like
target shooting
. Just last Friday I was lucky enough to spend my day holding a real gun, which means if my life was a game, target shooting gave me a +15 XP.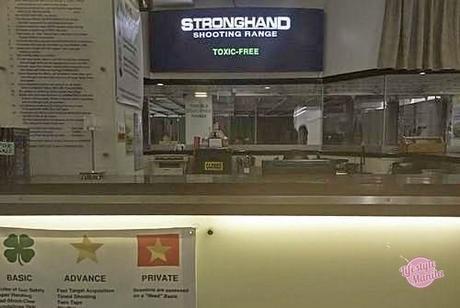 First impression on the shooting range: Spacious, quiet and clean. The rest room was also well-maintained, and even had a bidet, tissue and handsoap available. The place totally justifies the slightly pricey shooting range fee (Php500 for Filipino guests), firearm rental (Php500), and 20 rounds of 9mm caliber bullets (Php10 apiece) a non-member beginner would have to spend. There are double glass panel windows as well to reduce gun blast noise, so people remain comfortable even while staying in the waitin area next to the Kiss Kiss Bang Bang cafe.
Before I could begin target practice, I went through an hour-long beginner's lesson (Php1,000 for guests) where the instructor explained the 4 Rules of Gun Safety.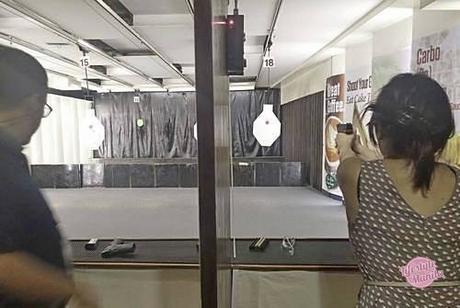 I've heard that indoor ranges can be unsafe because of the higher level of gun blast noise and lead. Before entering the indoor shooting range, though, I had to wear a pair of ear muffs (no etra eye protection was needed, since I already wear prescription glasses). Fun  fact: Noise levels in indoor ranges can go beyond 140 dB! For comparison, motorcycle noise can reach 100 dB. Stronghand proudly declares that it is a non-toxic range, so shooters won't be exposed to high levels of lead. This particular indoor shooting range maintains proper ventilation to pull smoke and lead particles away from the shooting area. That means shooters are guaranteed a toxic-free experience--no airborne lead, sulfur dioxide, barium oxide and antimony oxide poisoning!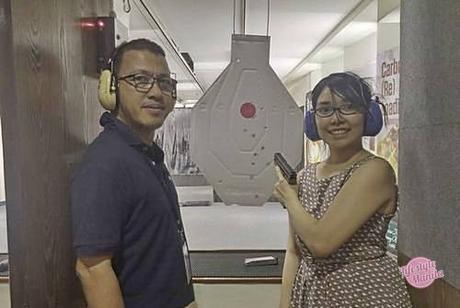 So after the beginner's lesson, I finally began target practice. To be fair, I expected that shooting live bullets would really make me anxious, I just wasn't expecting the extent of the anxiety. Although the family-friendly shooting range was calming and beginner-friendly, I still had clammy hands, and my heart had an epic drum solo in my chest. It was also a bit difficult to pull the trigger sometimes--I'm not sure if it's just my finger or the trigger, but I would sometimes have to pull hard just to fire a shot. After firing twenty rounds (I missed the target 6 TIMES!), I was ready to go home. My trigger finger was sore, and I got a total of -9 points.
VERDICT
There might be less expensive indoor shooting ranges in Manila, so it would be best to find the nearest one that will appeal to you in terms of cleanliness and safety. Stronghand Shooting Range offers a non-toxic, well-maintained, and family-friendly range that's just about 20km from where I live. So personally, depending on my budget and need for target practice, Stronghand would be on my top 3 go-to places.  
 Visit
Stronghand Shooting Range
http://www.stronghandshootingrange.com/
La Defense Building 1660 E. Rodriguez Sr. Ave., Cubao QC.
Office hours: Monday to Saturday 10 AM to 7 PM, Sundays 10 AM to 5 PM.
Thanks to:
RMDC, Inc
www.wearermdc.com
La Defense Building 1660 E. Rodriguez Sr. Ave., Cubao QC.