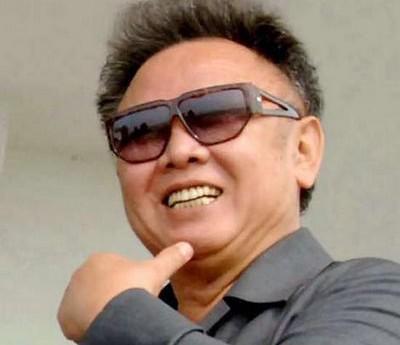 North Korea's former leader Kim Jong-il
The sudden death of Kim Jong-il, North Korea's "Dear Leader" since 1994, has shocked, stunned and saddened inhabitants of the Hermit Kingdom and has its near neighbours, and the West, on a state of high alert, given so little is known about Jong-Il's son and "Great Successor" Kim Jung-un.
Jong-Il's death by heart attack has also prompted the media to take a look at some of the strangeest "facts" about perhaps the world's most secretive leader. Given many of these facts have been put out by North Korea's state media, to glorify their spiritual leader and to cement his cult of personality, they should, of course, be taken with a large pinch of salt.
News of Kim Jong-Il's death sent "Team America", the leftfield US film which famously spoofed Kim Jong-Il, trending on Twitter.
Divine birth. Kim Jong-il was born in the village of Vyatskoye, Soviet Union, in 1941 while his parents were there during the Japanese occupation of Korea, according to Soviet documents. But according to his father's official biography, his birth, in a secret military camp on Baekdu Mountain in Japanese-occupied Korea on Feb. 16, 1942, was prophesied by a swallow and heralded by a double rainbow over the mountain and a new star in the sky.
Jong-il has long been a figure of fun on the internet, and news of his death surged traffic on lighthearted send-up blogs such as (the self-explanatory) Tumblr Kim Jon-il looking at things.
Weather man. In fact, Jong-il had a pretty special relationship with the weather. Jong-il spread the myth among citizens that he had "magical power" to control the weather depending on his mood.
State-sanctioned 1992 song No Motherland Without You, which proclaimed the dictator's wisdom and virtues, also informed the lyric "We cannot exist without you, Comrade Kim Jong-il! The motherland cannot exist without you!"
World's best ever golf player. In 1994, Pyongyang media reported that Kim Jong-il shot an amazing 11 holes-in-one to achieve an unprecedented 38-under-par game on a regulation 18-hole golf course. Needless to say it was his first crack at the game of golf. Find it hard to believe? State media says Jong-Il's superhuman golfing feat is verified each of his 17 (yes, 17) bodyguards. 
"I do think my favorite Kim Jong-il fact is the first time he played golf he ended 38 under par and got 11 holes in one", tweeted The Guardian's Web News Editor Jonathan Haynes.
Cinephilic. Jong-Il had a personal collection of 20,000 movies. The many movie celluloid interpretations of Godzilla were a particular favourite of the vertically-challenged world leader. He also dug Elizabeth Taylor films. In a bizarre act stemming from his love for cinema, Jong-Il reportedly ordered the kidnapping of South Korean film director Shin Sang-ok and his actress wife Choi Eun-hee in 1978 to build the North Korean film industry. They managed to escape to tell the tale.
Fashion icon. Pyongyang announced the leader had become a worldwide fashion icon after Rodong Sinmun, a communist party newspaper in North Korea, reported Kim Jong-Il's suits had become a global fashion phenomenon. The piece quoted an "unidentified French fashion expert" as saying, "Kim Jong-il mode, which is now spreading expeditiously worldwide, is something unprecedented in the world's history." To be fair, his trademark oversized sunnies have been adopted by some in the fash pack in the West in recent years.
He didn't defecate. According to the official biography on the North Korean state web site, Jong-Il didn't defecate. That's pretty amazing for a human being. But then so is nailing 11 hole-in-ones in one round.
(Insanely) picky eater. A nephew of Jong-Il's first wife, Lee Young Nam, wrote that the obsessive leader insisted his rice be cooked using trees cut from Mt. Paektu (the mountain where he was apparently born), and that he had female staff inspected each grain of rice to make sure it met his strict standards.
Hennessy man. He reportedly imported $700,000 worth of Hennessy cognac per year. His favourite cognac came in at a cool $630 a bottle in Korea – $270 less than the average Korean annual income, $900.
That not enough to sate your Kim Jong-Il weird facts appetite? Check out some other pearls in this widely viewed YouTube video: