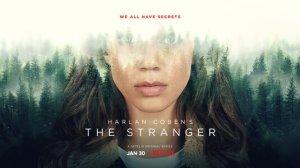 The appearance of a stranger is about to turn the lives of everyone in a small town community upside down when she knows secrets about them and with threats they must attempt to find out the truth about those they love.
Number of Episodes: 8
⭐️⭐️⭐️⭐️
In a tv series that is built around suspense and mystery it must grip and grab the viewer immediately, The Stranger does that in the best possible way. No messing around with the first secret which Adam Price must deal with and confront his wife Corrine. This sets in place a series of events which has no going back, when she suddenly decides she needs some time and space. Managing to disappear without trace, but given the events which took place before this Adam allows her the space but their two sons cannot understand why their mother suddenly up and left them.
Within the first few episodes different characters are told things not only about themselves but about a family member and they must decide how they are going to cope with that. Some can do it better than others just showing that some people are not easily manipulated and they can still get on with their lives. It also makes you wonder what those around you could be keeping a secret and not telling you.
Adam Price becomes our main character really and in all fairness does come across as a pretty nice guy. Although he does have a secret as well, but doesn't everyone? Plus his is not really the worst thing in the world. The series pushes boundaries and has some truly shocking moments which made me gasp as I was not expecting anything extreme. That is a massive compliment though as it meant that I was pretty much blown away at times by the twists and turns. Which I cannot really give too many details about with a risk to spoil the show.
It moves at a very good pace and I kept wondering if everyone would link together in the end and for the most part it does, but it also feels very open to leading towards a second season which I would certainly not complain about. I really enjoyed that this was all instantly available on Netflix as it did feel like it could have been on BBC or ITV which would have taken nearly two months to then watch! With a very impressive British cast led by Richard Armitage and Siobhan Finneran it was great to watch unfold.
Without any major spoilers it does address many different issues in terms of marriage, cheating, online websites, teenage drug use and a football club. All of these things show that people will always suffer in different ways and at different stages of life be faced with many different dilemmas. It also pushes boundaries on what people will do to protect the ones they love. Looking at how secrets can then lead to money and often blackmail and even the very extreme measure of death!
Not finding out everything too soon really does build up the character of the Stranger, who is she and why exactly is she messing with peoples lives. Luckily we don't really know anything until the final episode which builds that suspense in the best possible way. I did guess one of the twists but some were very nice surprises.
Hannah John-Kamen was very impressive as The Stranger and engaging throughout. I found Jacob Dudman to be the standout performer and was very impressed with his acting at such a young age! Certainly one to watch out for in the future, he held his own and drove so many scenes. Working very well with his on-screen father Richard Armitage who I have to admit I really enjoyed in this type of role.