Rob's picked for me to watch is the multi Oscar winning The Sting, let's see what I thought.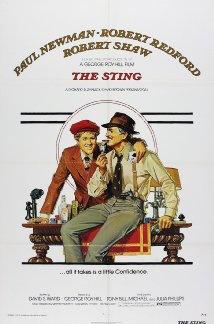 Director: George Roy Hill
Writer: David S Ward (Screenplay)
Starring: Paul Newman, Robert Redford, Robert Shaw, Charles Durning, Ray Walston, Harold Gould, Eileen Brennan
Plot: In Chicago in September 1936, a young con man seeking revenge for his murdered partner teams up with a master of the big con to win a fortune from a criminal banker.
There may be spoilers the rest of the review
Verdict: Bit of a Drag
Story: The Sting starts when young con artist Johnny Hooker (Redford) steals from the mob leading to his long-time partner and mentor to be killed. Johnny has to turn to experienced Henry Gondorff (Newman) to work the one big con against ruthless crime boss Doyle Lonnegan (Shaw).
We follow as the bog con unfolds and Henry and Johnny put together a team on fellow con artists for the bigger score of their lives.
The Sting is a heist movie that follows just one long play against one man in an act of revenge, just think it pretty much does what Ocean's Eleven does by walking us through the whole con step by step. I will have to say the film does go on for too long for my liking and it all seems to just repeat itself with each tip given to Lonnegan. Add in the hapless police officer trying to catch Johnny and it all just seems to come off too long, repetitive and lacks the impact in the final pay off.
Actor Review
Paul Newman: Henry is the experienced con artist who Johnny turns to when he wants revenge for a friend's death, he ends up putting the con together to make it al happen with his smooth talking style. Paul gives us a good performance in the role where he out smarts the villain.
Robert Redford: Johnny is the slick young con artist who ends up biting off more than he can chew when he takes money from a gangster. He must avenge his partner's death with the help of the best in the business. Robert gives us a good performance from start to finish and is the star of the show.
Robert Shaw: Doyle is the mobster running the town and when he has money stolen from him he needs to make up for it but ends up becoming the target of the con artist who are out for their own form of revenge. Robert does a good job in this role shining against the flair characters.
Charles Durning: LT Snyder is the hapless detective trying to track down Johnny but always seems to lose him just when he thought he had him caught. Charles is the only remotely funny character in this film.
Support Cast: The Sting has a large supporting cast that all show the different side of the con people are and how ready each member is to deal with the consequences.
Director Review: George Roy Hill – George does a good job directing this film that will be remember for years to come as it paved the way for the heist movie.
Comedy: The Sting doesn't really have many laughs and it leaves me wondering how it is considered a comedy.
Crime: The Sting has a great heist element filling in the crime side of the story nicely.
Settings: The Sting has good settings being used making everything look like it would be the underworld of crime.
Suggestion: The Sting is on to try but if you don't like older films you will struggle to enjoy this one. (Try It)
Best Part: Poker game.
Worst Part: Too long
Believability: No
Chances of Tears: No
Chances of Sequel: No
Post Credits Scene: No
Oscar Chances: Won 7 Oscars
Box Office: $159 Million
Budget: $5.5 Million
Runtime: 2 Hours 9 Minutes
Tagline: all it takes is a little Confidence.
Trivia: The movie was filmed on the backlot of Universal studios and the diner in which Hooker meets Lonnegan is the same diner interior used in Back to the Future(1985) in which Marty McFly first meets his father and calls Doc Brown.
Overall: Long heist film that all shows basic storytelling with the one heist going on.
Rating