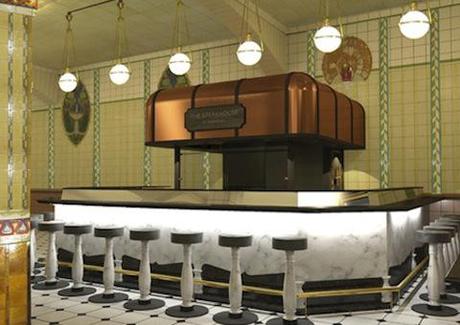 Simple Instructions for putting meat in belly.
1. Go to Harrods
2. Stand at Butcher's block and demand meat
3. Decide on cut
4. Decide on price or size
5. Decide on cooking
6. Sit at counter
7. Watch steak cook
8. Slice, sauce, swallow
9. Meat is in belly
Sides and wine are optional, we recommend the triple-cooked fries, creamed spinach and a bottle of the Barbera del Piemonte 2010.
neon verdict: Go! Go! Go!
No frills, no waiters, no perusing menus, no amuse bouche, no starters, not even any bread. This is all about the meat. A butchers block waiting for your cut that hangs behind the head of the butcher/Chef. The only distraction from the 21-day dry-aged Aberdeen Angus beef are the shoppers peering over your shoulder at your plate. Get a table around the side or keep your Laguiole knife brandished high.