The last blogpost of July 2nd was about "Biography of Sripada Srivallabha now released in English". I would like to tell you how the story has been going on.
June 15th, there was the Indian release of the book by Sri K. Parvathi Kumar during the Guru Purnima celebration (at Cancer full moon, the full moon of the Teacher) in Hyderabad.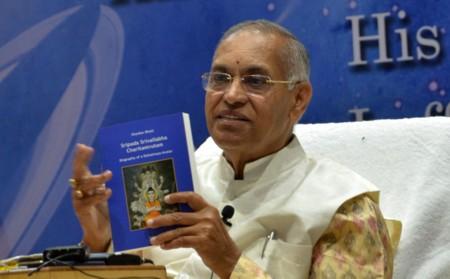 And yesterday I received photos from Sri Gopal, the head of the WTT center in Hyderabad. Together with other group members, they went to Kuruvapur, an island in the Krishna river of strong spiritual vibrations, where Sripada passed the second half of his life (see here about my visit in January 2017.)
Mr Gopal wrote, "We are blessed that you thought of us to deliver this Most Sacred Book in the Sripada Srivallabha Sansthan (the temple). There was absolute Master's cooperation wherein we received wonderful reception and we could participate in the Water Ritual to the Sripada Srivallabha Sila (the seat on which Sripada Srivallabha sat and did penance), performed by Sri. Manjunath Bhat, himself, who is the incharge of that Sansthan" (temple).
He further added: "In India we carry Guru Padukas ( symbolic Chappals -sandals- of Master) on the head with reverence. That is how we carried Gurucharitra (the book) on the head. The whole group carried the most Revered Book on head one by one till we reached the Guru Sansthan. Just for your understanding of the pictures sent."
Thus, this English version of the Sripada biography, published in Germany, reached its "home" with great reverence: Major parts of the book had been written at Kuruvapur around 1350. And it contains the prophecy that centuries later it would be translated into many languages. See more about the book here.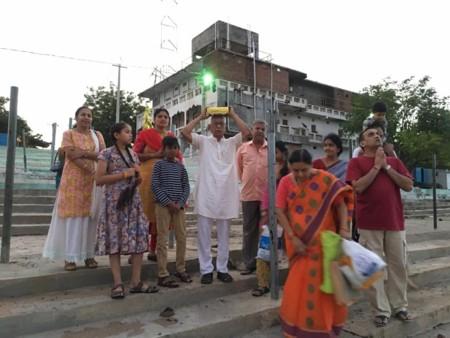 Descending to the Krishna River in Panchadev Pahad.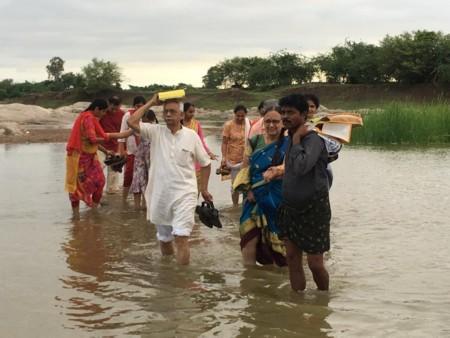 Arrival at the island of Kuruvapur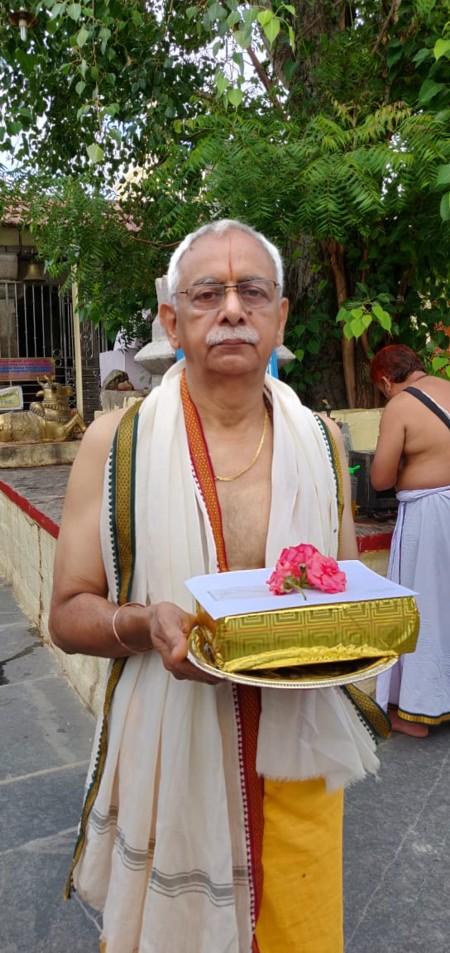 Mr. Gopal carrying the book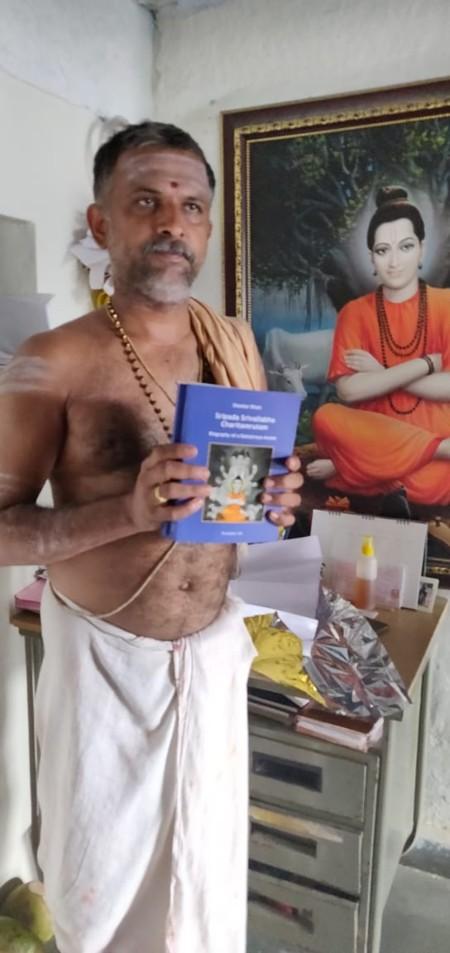 Sri. Manjunath Bhat, the incharge of the temple receiving the book