Plus a new "Design Under the Influence"
As I mentioned last week, we did a mini makeover on our master bedroom. I'll have more "official" photos to share soon, but here's a first look!
I wanted to change up the mood, but didn't want to spend a ton of money. That means no new furniture. Boo. What's left were these cost-effective steps, over a few months' time:
#1…Throw a cowhide (IKEA!) over our old headboard

#2…Swap our duvet for a bright white one (with block print sheets from Target)

#3…Paint all the walls dark gray (Ralph Lauren's Mombasa Mist)

#4…Move the curtain rod up, and add floor-to-ceiling Belgian linen drapes (I waited for a sale!)

#5…Hang a Sputnik chandelier for contrast (Z Gallerie, $299)

#6…Throw in a house plant for texture ($13 from our local hardware store)

(#7 is in progress…looking for a big gold mirror for over the dresser!) 
/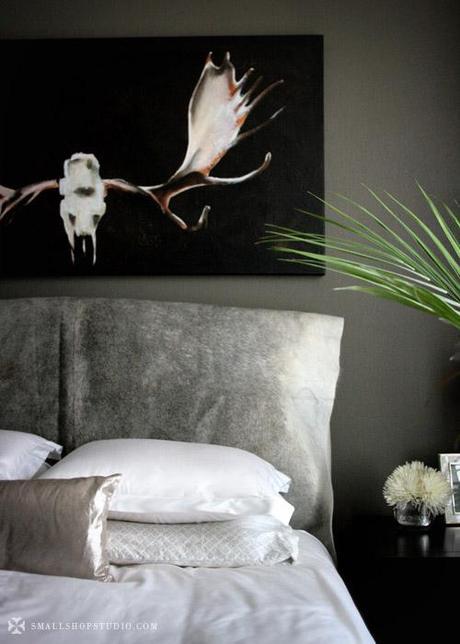 Once I get #7 done, I'll be sure to share more! (And I realized yesterday, it will round out my "5 pieces" formula!)
In the meantime, since I've been obsessing over Sputnik chandeliers the past month, I thought I would make you do the same. Check out my new "Design Under the Influence" post today on these mid-century icons!