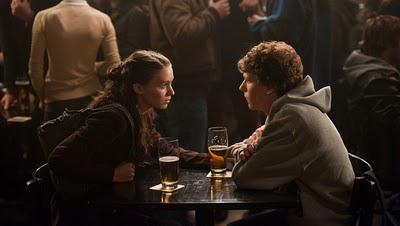 Great films improve with subsequent viewings and The Social Network is that and shows improvement upon my second viewing. The film is a towering achievement for David Fincher, Jesse Eisenberg, and Justin Timberlake, but overall Aaron Sorkin should be commended for his screenplay which, thanks to great dialogue and wonderful plotting, stands as one of the great scripts. With the Oscars about a week away, The King's Speech is the favorite for film of the year (and my favorite), but The Social Network is a generation defining film that plays out a modern day tragedy and is surely a film of the times. 
October 2010 Lamplighter Review and 9/29/10 review   The Social Network follows the founding of the juggernaut online site Facebook and the lawsuits that followed its explosion. Although the movie is thoroughly modern in its setting and material, its story goes back as long as stories go and can be boiled down to the biblical query: "For what does it profit a man to gain the whole world but lose his soul"
      The film opens at a campus bar with Mark Zuckerberg on a date which seems more like a class lecture, as the girl struggles to keep up with his barrage of facts. After insulting her and being told off, he retreats to his dorm room where he simultaneously blogs about his failed rendezvous while creating a complex online program, which he has up and running within a matter of hours. This will be the most primitive model for Facebook.
      When this project was announced a few years ago, I had more than a few reservations. How could they make an interesting film about a networking site. However, as the cast and crew began to form, it was clear the film would be of substance. It is directed by David Fincher, who has established himself as one of the great visual directors. His involvement elevates the project as he beautifully captures the Harvard campus, and particularly several crew races on the Charles River. The screenplay by Aaron Sorkin (A Few Good Men, The West Wing) is based on the nonfiction book The Accidental Billionares and it is a marvel as it blends complex dialogue with a flashback narrative. I was reminded of Fincher's own Zodiac where we were assaulted with loads upon loads of case facts (computer jargon and legal speak with this film) which we could not fully comprehend upon an initial viewing, but felt we did anywhere.
      The film is wonderfully cast and for the first time that I can think of, it can be safely said that we have a great acting showcase for young actors. Jesse Eisenberg, a dead ringer for Zuckerberg, plays him as if he actually were a computer program with responses to every situation but maybe lacking basic human emotion and understanding. The results are spectacular. Supporting players also shine. Andrew Garfield plays his friend, Facebook cofounder, and CFO. Justin Timberlake plays Napster founder and snake Sean Parker. Rooney Mara is wonderful in a small role as Zuckerberg's incorruptible date in the opening scene. It is a wonder watching these actors convincingly play smart and well established characters.
      The Social Network is a wonder of a film in so many ways, yet by the time it ended I was left wanting more. It ends on a clever note, but I was hoping the film would have gone deeper and further explored the tragedy of Zuckerberg's character. Although it could have been more ambitious in scope, this is one of the year's best films.