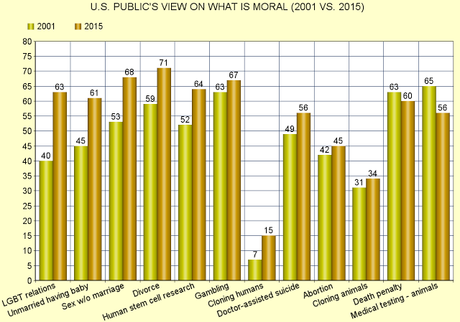 I found this very interesting. It's a comparison of a new Gallup Poll (done between May 6th and 10th of a random national sample of 1,024 adults, with a margin of error of 4 points) with that same poll taken in 2001. It's pretty striking how much more liberal this country's idea of what's moral has become since 2001.
The biggest difference is the acceptance of relations between gay and lesbian couples -- a 23 point change in the last 15 years. But that's not all. There has been significant change in many other areas as well. Only two areas show a decrease in acceptance -- the death penalty and medical testing on animals -- and even that shows a move to a more liberal philosophy.
I'm sure that most in the religious right would be horrified by this liberalization of the country's morality. After all, they want to tell other people how to live their lives -- and this change is just the opposite of that. It is a change that lets people take charge of their own lives, and make their own decisions. I think that's a good thing -- and I hope this change in our social morality continues. It's only right for a country that claims to value freedom.