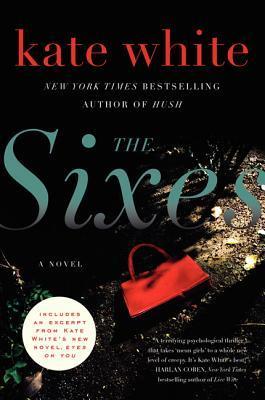 AUTHOR WEBSITE
AMAZON.UK
AMAZON.COM
WHAT'S IT'S ABOUT
Kate White rises to the pinnacle of modern suspense with The Sixes, a page-turning stand-alone thriller from the New York Times bestselling author of Hush,andthe editor-in-chief of Cosmopolitan magazine. With taught prose evocative of Laura Lippman's Life Sentences and Dennis Lehane's Moonlight Mile, Whitepaints the sinister picture of a quiet Pennsylvania college town left shaken after a mysterious death precipitates a cascade of evil events on campus. When new teacher Phoebe Hall undertakes the dangerous quest of uncovering the truth behind the ghastly recent happenings, her investigation will send her into the clutches of a deadly secret society-the Sixes-and unearth the dark relics of her own long-buried past.
OPENING
SOMETHING WASN'T RIGHT. She sensed it as soon as she began to walk across the quad that night. The weather was practically balmy, weird for Late October, and yet the air carried the pungent smell of wood smoke. But that wasn't the reason things seemed strange to her. It was the deserted pathways. Though Phoebe wasn't really used to the place yet, she expected to find more than just a few people crossing campus at eight o'clock at night.
WHAT I THOUGHT
This is my second novel by the author and I've decided she really isn't for me. The Sixes has an interesting premise but is rather dull, bland and run of the mill. I found the book the opposite of a thriller. Certain plot elements make no sense. I doubt any respectable college would hire someone accused of plagiarism and I doubt even less that the woman in charge would ask the same person to investigate a murder. Maybe I'm being cynical? I'm sure disgraced celebrity biographers investigate crimes all the time. Oh, wait - they don't. The characters are bland and forgettable, little more than ink scratchings on the page. We're treated to pages and pages describing what they look like, what everyone is wearing, what they think and what colour their pee is (well, maybe not that last one) but are given nothing deeper, no real insight into what makes them tick. They never become real and that's a big failing for me. Phoebe is bland and incredibly naïve. Glena is career-driven and doesn't see what a prat her husband is and is oblivious to his nefarious activities. Duncan is a stereotypical handsome and brooding love interest - he may as well have it stamped on his head. The Sixes are not a threat in any way shape or form. They're almost laughable. They break into Phoebe's house and leave six apples and then six spoons - time to run in terror. Or not. It's weird the novel is called The Sixes because they aren't even involved in the murder. There is very little suspense in the novel. The novel is fast paced but a fast pace doesn't quality automatically as suspense. Phoebe and Duncan's relationship make me cringe as did the bad sex scenes. The writing is also quite poor, bland and repetitive. Everything is described and explained in ridiculous detail but nothing has any real depth. I wouldn't recommend The Sixes to anyone. It did nothing for me.
RATING