In a recent episode, Springfield underwent a modern architectural renaissance with the arrival of a cool couple who move in next door to Homer, Marge, and company after finding the house has "Neutra bones."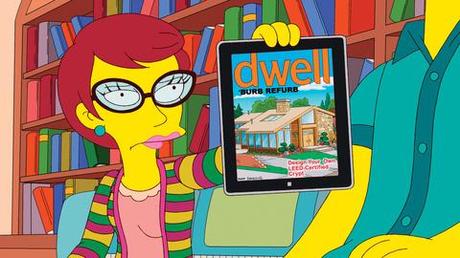 The look of the Simpsons' neighborhood transitions wildly when new neighbors discover a forgotten Neutra, triggering a renovation craze. Their project is so successful that it's featured on the cover of Dwell.
How did this episode, "The Day the Earth Stood Cool," come about?
I'd been kicking around an idea for a couple of years about the Simpsons moving to Portland. The show's creator, Matt Groening, is from there, and over the years, we've taken a lot of influence from his hometown—many of The Simpsons' characters' names are taken from Portland street signs for example. So we started with the question: "What would Lisa see as a utopia?"
What is it about Springfield that isn't passing muster for Lisa?
Springfield has an inherent bias toward ignorance, tackiness, and consumerism— everything Lisa hates. So we juxtaposed that against Portland, which we think of as enlightened, pure, and quirky. Our story centers on a sophisticated couple, owners of a fancy doughnut business, who find a special and untouched house in the Simpsons' neighborhood. They are almost terrifying in their coolness, which is foreign to Homer and Marge. It speaks to the emotional truth that sometimes it's hard to stay cool when you're a parent. We wanted this episode to be much more than a culture clash, or about people who just like fancy chairs.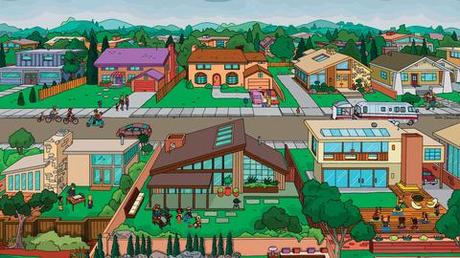 "The show is a good fun-house mirror to society, in that it can reflect the world back onto itself in a new way." —Matt Selman, executive producer, The Simpsons
How influenced were you by IFC's popular show Portlandia?
I knew their take on Portland was way better than mine could ever be. It was humbling, in a good way. I knew I wanted the show's creators, Fred Armisen and Carrie Brownstein, to voice the characters Terence and Emily. Patton Oswalt is the voice of their culturally world-weary son, T. Rex. It was a lot of fun.
The couple decides to stay in Springfield once they discover that the house next to Marge and Homer has "Neutra bones." Where did this reference come from?
I've always loved architecture and design, going on home tours, and I like to bike around L.A. looking at all of the Case Study houses. I enjoy the idea of Richard Neutra taking an undocumented detour through Springfield before settling in Southern California in the 1920s. I imagined that he built a couple houses, tried out the town for a bit, and then found it wasn't for him and he was on his way. Terence and Emily just happened upon one of these forgotten gems decades later, buried under years of bad renovations, and restored it to its former glory. What better magazine to feature that story than Dwell?