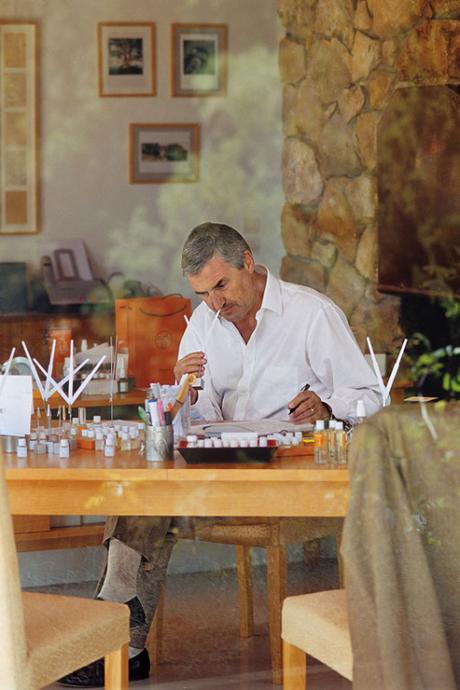 If you've ever had a passing interest in fragrances, the BBC's documentary on perfumes is well worth a watch. The three-part series came out a few years ago, and it covers everything from how big brands create blockbuster hits to how niche perfumers make scents for private clients. The film, admittedly, can be a bit dramatic at times about its subject, but even a cynical enthusiast would find it difficult not to get swept away. You can find it these days at the BBC's website and YouTube. 

In one of the film's better segments, Jean-Claude Ellena can be seen working from his home in Grasse, a small town on the French Riviera known for its perfume industry. Ellena, for those unfamiliar, is one of the most brilliant perfumers of our age, creating masterpieces for houses such as Frederic Malle and L'Artisan Parfumeur. He is best known, however, for being the in-house nose at Hermes. 
If you don't realize why that's important, know that most fragrances are created from start to finish by the same companies. Large corporations such as IFF and Takasago not only create the ingredients for a fragrance, but they'll also compose the scent and then supply either the concentrate or finished, bottled product. The client then adds a bit of marketing luster, which is how you come to know it. 
Hermes' production is different. Like at Chanel, they make everything in-house, where a master perfumer creates a singular, unified vision across a line. The trade-off, of course, is that you need someone brilliant enough to do the work, and bet that a consistent level of creativity can be squeezed from one person. At Hermes, that gamble has paid off well over the years. Whereas some lines are known for their baroque and opulent compositions, many have turned to Hermes for the sort of clean, light, and ethereal scents that have become Ellena's signature. (If you're unfamiliar with the line, start with Terre d'Hermes, an earthy bergamot that may just be the perfect choice for summer).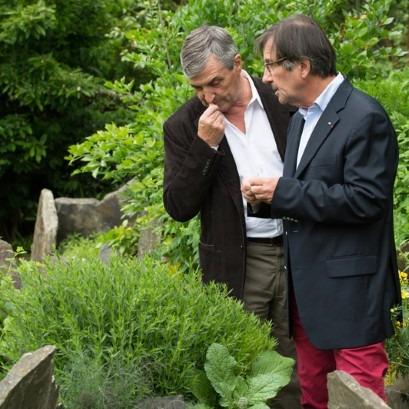 Interestingly, that simple and clean sensibility is reflected in Ellena's own sense of dress. In almost every photo you can find of him, Ellena is wearing a basic white dress shirt. Sometimes the details differ – French cuffs instead of barrel, a curved chest pocket instead of plain, and French placket instead of regular – but in every one, it's always a plain weave shirt typified by a semi-spread collar that stands up on its own (harder to achieve than one may realize, as most spread collars will slip under a jacket's lapels). 
Ellena isn't always someone I would always call well-dressed – at times, his suits and sport coats look like they could benefit from some simple alterations – but he's stylish in the sense that he has a point of view. The white dress shirts here are a simple signature, but a signature nonetheless, and they lend a sense of consistency to his appearance. It's almost like Steve Jobs' black turtlenecks, except a bit better looking. For someone who wears simple sport coats, baggy chinos, and brown dress shoes – a uniform of many men – he looks surprisingly better than his peers. 
Over at Put This On, I once wrote about the different ways you can wear white dress shirts. For me, they're best with business suits, night time activities, and summer afternoons – never with tweeds or corduroys, which I think look better with light blue oxfords and basic stripes. Ellena, on the other hand, is the exception to the rule. By wearing solid white shirts with everything, he's created a signature (one that's powerful precisely because it's nearly unnoticeable). In an old interview at W Magazine, Ellena was once asked if he burned scented candles at home. He replied: 
I don't like them. Burning candles is a way to avoid your own smell. I prefer smelling odors from the kitchen, the fireplace, your dogs, your cats, your kids. The odor of your life is who you are, and I prefer to know you, not your candle.

Maybe white dress shirts are like that. As with Ellena's fragrance compositions, they fade into the background – being pleasing without outwardly noticeable, allowing you to focus more on the person than his clothes. There are still times when I think a light blue shirt might be better, but inherent in having a point of view is not having to follow every rule.