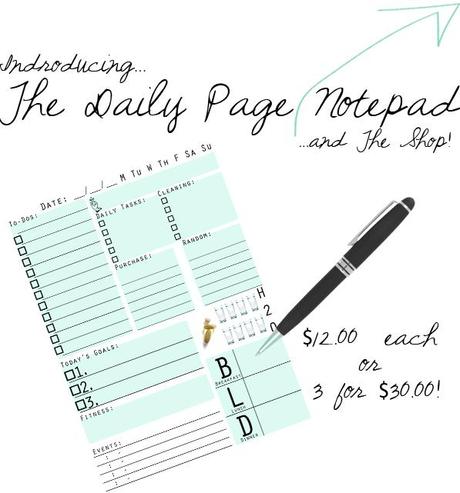 I have two neat things to announce today, #1. I am now linking up to a fabulous little Etsy shop through LAJ.   And #2: My Daily Page is now available in notepad form and available for purchase through that little shop!
The Daily Page is a handy tool for organizing your day—it tracks tasks, goals, events and helps you remember to hydrate! It also provides space for cleaning, errands and meal planning! The Daily Page Notepad is professionally printed and bound—each notepad contains 30 8.5 x 11 inch pages.
I am currently accepting pre-orders for the notebooks, which will ship on December 15th and will arrive well before Christmas. You can purchase a single notebook for $13.00, or get a pack of 3 notebooks for $30.00! I realize not everyone has a PayPal Account, so you can also pay by check (follow steps at checkout) although this may delay your shipping slightly.
Huge thanks to everyone who has offered feedback and praises for the Daily Page and I hope you enjoy The Shop!