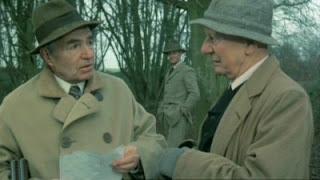 "My fellow murderers are rather hot-blooded."
Alan Bridges'
The Shooting Party
(1985) belongs to a familiar school of drama, examining the faults and foibles of English aristocrats just before World War I. Despite occasional lapses in dramatic judgment, Bridges crafts a nicely elegant.
Sir Randolph Nettleby (James Mason) hosts a hunting weekend on his estate in autumn 1913. The hunting descends into a contest between icy Lord Gilbert (Edward Fox) and educated Lionel Stephens (Rupert Frazer), while their friends and family play out a variety of domestic dramas. Frazier hopes to woo married friend Olivia (Judi Bowker), while Lord Gilbert's wife (Cheryl Campbell) carries on with another guest (Aharon Ipale). These and other personal conflicts inevitably conclude in an unexpected tragedy.
Admittedly,
The Shooting Party
isn't nearly as subtle as Bridges'
The Hireling
, which mines class differences with uncommon restraint. Instead, Bridges and writer Julian Bond (adapting Isabel Colegate's novel) insist on portentous invocations of theme. Characters openly muse about the End of an Age, with Sir Randolph advocating war as a national purgative while younger characters fret over manners and ego. Or John Gielgud's wandering animal rights activist, who dispenses Meaning like a didactic Johnny Appleseed. Or Sir Randolph's headstrong granddaughter (Rebecca Saire) courting a Hungarian nobleman (Joris Stuyck), reminding us of prewar Europe's interbreeding. Perhaps most obnoxiously, a child's metaphorical pet duck who becomes a target for indiscriminate masculinity.
Bridges more successfully views shooting as a metaphor of manly violence, with Lord Gilbert and Lionel's rivalry presaging the brinksmanship that brought Europe to war. This and its telling cameo portraits of aristocratic are highly effective, showing a variety of bored aristocrats taking privilege for granted, demanding satisfaction at all time. Relationships, romantic or otherwise, carry on through formality rather than attachment: Sir Randolph's more accessible to the eccentric Gielgud or his low-born groundskeeper (Gordon Jackson) than his family and guests, whom he disparages as selfish social climbers.
The Shooting Party
's evocative direction scores another highpoint. Fred Tammes' photography casts the English countryside in beautifully muted, moody green-and-brown hues, long takes perpetually swirling with fog, must and gun smoke. Elegant interior scenes contrast with expressive exteriors, culminating in a harsh, violent shooting montage with barks of Gilbert's shotguns giving way to squabbles and cries of agony. It's topped off with John Scott's simple, elegant score.
James Mason gives one of his last (and best) performances. He plays Randolph as self-aware, superficially likeable yet vaguely contemptuous towards all around him. Mason's bone weary resignation and cynical humor makes Sir Randolph a compelling antihero, from his contemptuous putdowns of colleagues to his final, tear-stained prayer. The supporting cast plays types exceedingly well: Edward Fox is his usual snarling aristocrat, Cheryl Campbell's refined dissatisfaction, Gordon Jackson's coarse fatalism, Rebecca Saire and Rupert Frazer's youthful exuberance.
The Shooting Party
's closest analog might be Robert Altman's
Gosford Park
, a similar exploration of English aristocrats engaged in pointless, self-destructive languor. Where Altman's film flounders in its overstuffed characterizations, Bridges' movie tries too hard to add meaning to its story. Even so, its direction and acting overcome most reservations.