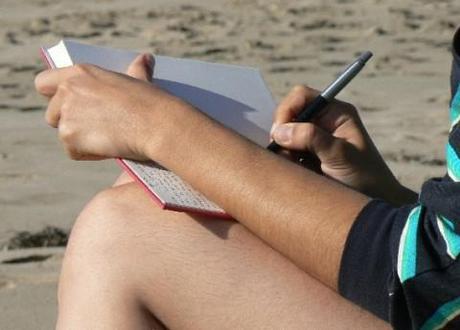 Diary writing. Photo credit: Kiwanja, http://flic.kr/p/qqLZr
Julian Barnes has made the Man Booker longlist for the fourth time, with novella The Sense of an Ending. Many readers will be surprised to learn that despite three previous nominations, Barnes has yet to take home the literary award: Along with Martin Amis and William Boyd, Barnes is one of the novelists most people believe to have already won the Booker. According to William Hill, Barnes is currently second favourite for the award, behind previous winner Alan Hollinghurst. Can Barnes break his bad luck with The Sense of an Ending?
Unreliable narrator. The narrator of The Sense of an Ending, Tony Webster, receives a solicitor's letter that reveals he has been bequeathed the diary of a former schoolfriend. The discovery sends Tony on a quest to retrieve the diary, which proves elusive, as well as prompting him to re-examine his past. Writing in The Guardian, Justine Jordan applauds Barnes's exploration of the unreliability of memory: "In a book obsessed with evidence and documentation – verification for unreliable, subjective memory – the most powerful depth charge turns out to be something forgotten yet irrefutable that Tony has kept from himself for 40 years. With it Barnes puts the rest of the narrative, and his unreliable yet sincere narrator, tantalisingly into doubt," she wrote.
More than a thriller. Writing in The Sunday Times, Peter Kemp felt that the novella was akin to "a taut horror tale: a 21st-century successor to the great suspense novellas — quivering not just with tension but with psychological, emotional and moral reverberations." Yet for all the twists, turns and revelations within the narrative, Anita Brookner in The Telegraph dismissed any suggestion that The Sense of an Ending could be classified as "a mere psychological thriller": "It is in fact a tragedy, like Henry James's The Turn of the Screw, which it resembles."
Size doesn't matter. Writing in The Evening Standard, Nicholas Lezard found the length of the issue to be no barrier to depth: "Cleverly, Barnes compresses a story with long temporal sweep into a scant 150 pages. (You can imagine a younger or a less confident author taking about three times as long to make the same points.)… He has effectively doubled the length of the book by giving us a final revelation that obliges us to reread it."
Size does matter. By contrast, The Spectator's David Sexton felt the 150-pages of The Sense of an Ending were not sufficient: "This novella does not move or satisfy. Partly that may be because of its length, more than a conte, less than a novel, making its story both under-described and over-determined, sketchy yet relentlessly purposeful," he wrote.
More on books

The Stranger's Child
Harry Potter: End of an era?
A modern Elizabeth Bennet