At the risk of being hunted down, I am sharing chef Lee Pennington's secret to perfecting a paella – Catalonian style. Sorry, Lee, but you can't expect to share your secrets with a bunch of travel bloggers and have them kept as secrets.  Lee is the same chef that also prepared our calcots at our Catalonian Gastronomical Event.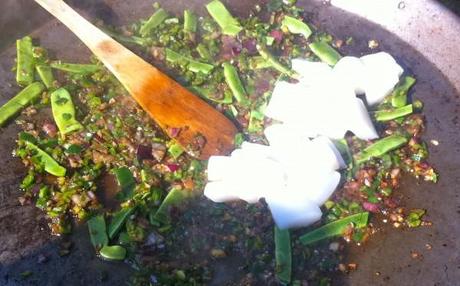 Surprisingly, the secret doesn't lie with the ingredients.  There were no secret ingredients, or at least ones that Lee was willing to share with us.  A good chef is entitled to keep a few secrets, safe from the prying eyes of a group of hungry travel bloggers.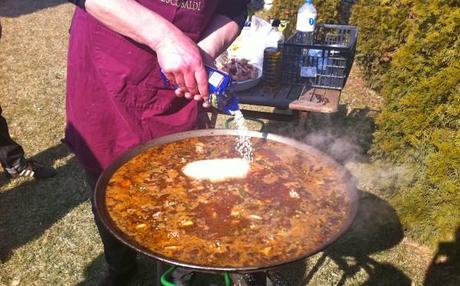 But it starts with the rice. 
The secret to Catalonian style paella is that once you pour the rice in you don't  stir the paella
-not even once! 
You will want to cook it a moderate temperature to keep the rice from sticking to the bottom of the pan, so be patient.  A perfect paella is not to be rushed!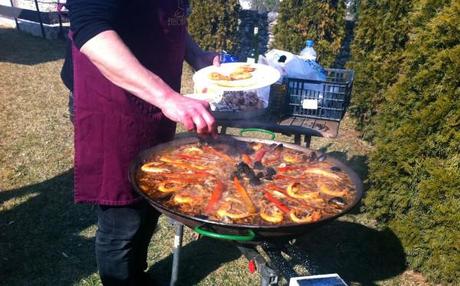 Everything else gets placed on top of the rice -without mixing it all together.  Perhaps this is where my self-made paellas have gone wrong – too much stirring, at too high heat.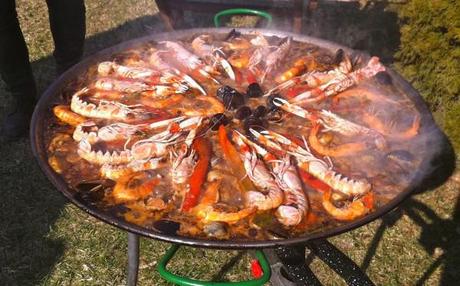 Voila!  This is what your paella should look like which fed a group of around 10.  A Catalonian paella is is deally complemented by: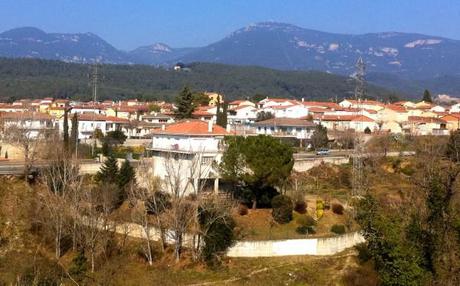 locally grown Catalonian 
MF Wines
and held in a spectacular location like this
luxury villa
in the
charming village of Besalu
.
Thank you to chef Lee Pennington and Charming Villas for hosting our paella.
What are your secrets for a perfect paella?
This post has been submitted to WanderFood Wednesdays where you can find more food related posts.