Is baking an apple pie a science experiment? Why not? The multiple variables--type of apple, moisture, fat content, spices, salt, etc. all impact the final result and can be measured and charted. Recently I attended the UCLA Science of Pie lecture by Chefs Christina Tosi of Momofuku Milk Bar in NYC (who brought compost cookies) and Zoe Nathan of the Rustic Canyon restaurant group (she had samples of her blueberry cornmeal cake) who shared some of their baking secrets and also were part of a panel to judge the student made pies at booths around the room.  The pies were projects of students in the Science and Food class.  You can read more about the event in this terrific article in the LA Times.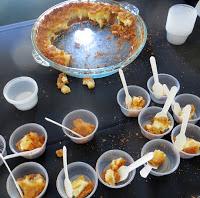 Each group of students had experimented with different variables. Then they made a poster presentation of their project. We all got to sample the pies. My favorite--an apple sour cream pie with a crunchy crust!
You can find out more about the activities of the science and food class and the public lecture series at their blog scienceandfood --Promoting knowledge of science through food, and food through science.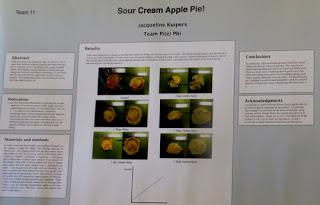 Science note:  Understanding food molecules can help us to enhance the desired flavors and textures in our food.  Apples contain pectin molecules.  By intereacting to form a network, these molecules can provide texture for pie fillings, jams, and gumdrops!