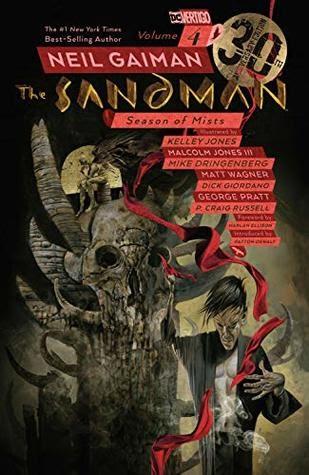 The fourth instalment of Neil Gaiman's seminal series, THE SANDMAN VOL. 4: SEASON OF MISTS, celebrates its 30th anniversary with all all-new edition!
Ten thousand years ago, Morpheus condemned a woman who loved him to Hell. Now the other members of his immortal family, The Endless, have convinced the Dream King that this was an injustice. To make it right, Morpheus must return to Hell to rescue his banished love - and Hell's ruler, the fallen angel Lucifer, has already sworn to destroy him.
Collects THE SANDMAN #21-28.
***
Walk any path in destiny's garden, and you will be forced to choose, not once but many times. CHAPTER O
***
(@vertigo_comics, 29 January 2019, ebook, 219 pages, bought from @AmazonKindle)
***
***
I've enjoyed the other books in this serious so I was looking forward to this instalment. I've become a huge fan of The Sandman and look forward to the Netflix series. I enjoyed the mythology steeped throughout this volume as Morpheus inherits something he doesn't want and finds himself harassed by a representative from every Patheon including Odin himself. I liked the nods to different mythologies. As ever, I'm impressed by the level of detail that went into this graphic novel. I look forward to the next volume.