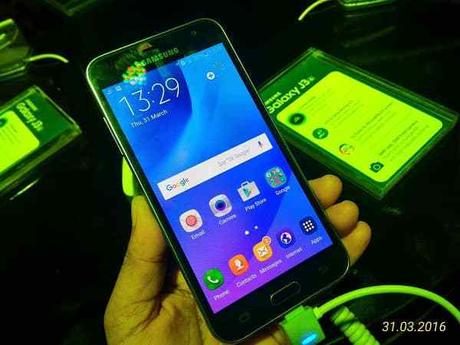 As useful as our mobile devices are, they can sometimes become a nuisance and even dangerous. Like when you are riding a bike. Using a phone while riding a bike or driving a car is highly dangerous and inconvenient. And very inconvenient too. Samsung took this in note and their Indian R&D center developed an innovative technology that aims to solve this problem. This brand new technology is called the S Bike Mode and it has been launched in Samsung's latest smartphone in India - the Samsung Galaxy J3.
Commenting on the launch of Galaxy J3, Mr. Asim Warsi. Senior Vice President, Samsung India Electronics, said, "Samsung is constantly in the pursuit of meaningful innovations that make people's lives better. S bike mode is a result of that vision. While studying the consumers' phone usage behaviour, we realised that incoming calls are a major distraction to bikers. We are very happy that we have come up with something that will benefit millions of two-wheeler users and promote responsible riding."
Enhanced UDS on J3: Samsung's J Series of smartphones target budget buyers. One of the highlights of the J series is the Ultra Data Saving Mode (UDS). This mode can help users save upto 50% in data. This feature has found good acceptability amoung users of Galaxy J series of smartphones. In J3, this feature has been further enhanced and can now also save data while using certain music streaming apps and over Wi-Fi.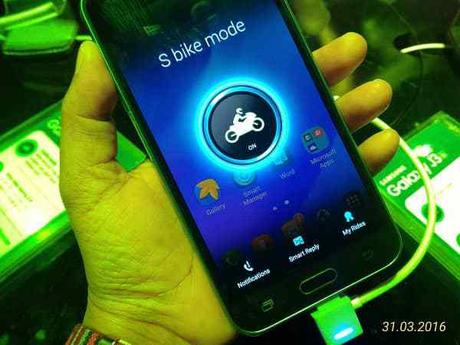 S Bike Mode: While enhanced UDS is a useful feature of J3, its main highlight is the new mode called the S Bike Mode.
The J3 comes along with a sticker or tag that needs to be attached to an easily accessible place on a bike or car. Once that is done, every time you are about to ride on your bike or drive your car, just touch your phone to that S Bike tag. That will automatically put the phone in S Bike Mode.
Automatic Audio Message: Once the phone is in S Bike Mode, it will start filtering calls. Suppose you are riding your bike and someone calls, the phone won't ring. Instead, the caller will hear an automatic audio message (available in 14 Indian languages) informing him or her that you are driving. And if they have to give some urgent message, they should press 1. If the caller does not press one, the call will be cut and its notification will get saved in the S Bike notification list. From here you can look at the missed calls and call back later.
Urgent Calls & Safe Driving: If the caller presses 1, the phone will give out a special Urgent Call ring which would be louder than usual ringtones to pierce through the traffic noise. You can also set the phone to vibrate for urgent calls. Thus, the phone will notify you that the call is important. However, it will put the call on hold and won't let you pick up the call unless you have stopped your bike or car. This ensures that you don't miss important calls and also that you don't risk your life while talking on the phone.
Automatic message to selected contacts: S Bike mode has one more very useful feature. It allows users to select upto five contacts as important. Now, whenever the phone is in S Bike mode, if any of the important contacts calls, the phone will automatically respond with a message with information that you are riding and the expected time of your arrival at the pre-set destination.
In terms of looks, J3 has not much to boast. It looks pretty much like most Samsung devices. It is slim, light-weight and is available in gold, white and black colour options. The specifications of Galaxy J3 are average considering its price of Rs. INR 8,990. J3 has 1.5 GHz Quad Core Processor 8 GB ROM and 1.5 GB RAM. The internal storage is expandable with microSD card upto 128 GB. The battery is 2600 mAh. J3 has 8 MP AF rear camera with LED Flash and 5 MP front camera.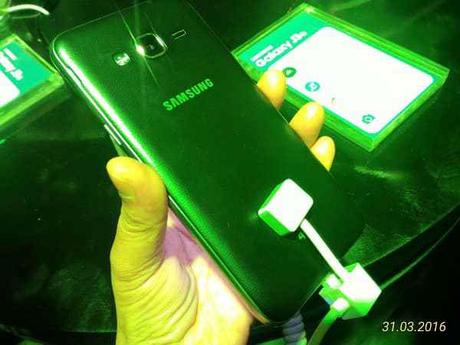 J3 is available exclusively on Snapdeal. There is a special built-in reward program for users of this smartphone. By using the S Bike mode, users stand a chance to win Rs. 1,500 of Frecharge. Also, as a special offer, J3 owners who use Vodafone network are eligible to get twice the data on selected packs for a period of six months in 4G circles and for 2 months in other circles.
Key Specifications of Samsung Galaxy J3:
Dimension: 142.3 x 71 x 7.9mm, 138 g
Display: 5" HD sAMOLED Display (720 x 1280)
OS: Android 5.1 (Lollipop)
Processor: 1.5 GHz Quad Core Processor
Memory: 8GB (ROM) + 1.5GB (RAM) microSD up to 128 GB
Camera: 8 MP AF w/ LED Flash +5 MP
Camera Features: Auto, Beauty Face, Continuous Shot, HDR (High Dynamic Range), Panorama, Pro, Selfie, Sports, Sound & Shot
Battery: 2600 mAh
SIM: Dual SIM
Sensors: Accelerometer, Proximity Sensor
Connectivity: BT 4.0, USB 2.0, GPS, Glonass / Wi-Fi 802.11 b/g/n, Wi-Fi Direct
PC Sync: Smart Switch
Network: LTE: 850/900/1800/2100/2300 - WCDMA: 850, 900, 1800, 1900/2100 - GSM: 850/900/1800/1900