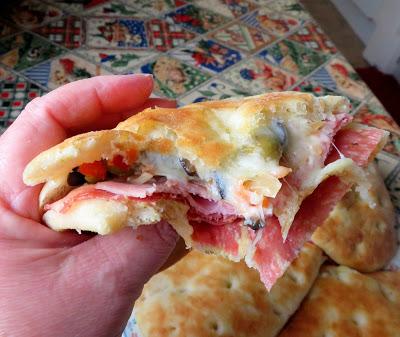 I am a huge HUGE fan of the sandwich!  Sandwiches are one of my absolute favorite things and if they are hot sandwiches so much the better!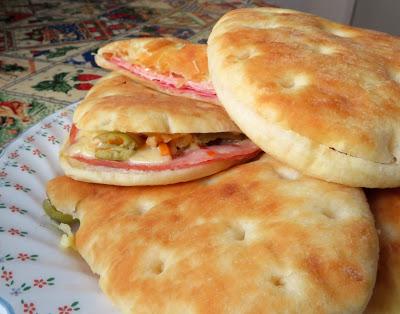 On Sundays, most of the time, because of church  I don't have a lot of time to prepare a huge dinner.  Usually if we are going to have a cooked dinner it will have been done the day before, or if I have been really organised I will have put something in the slow cooker.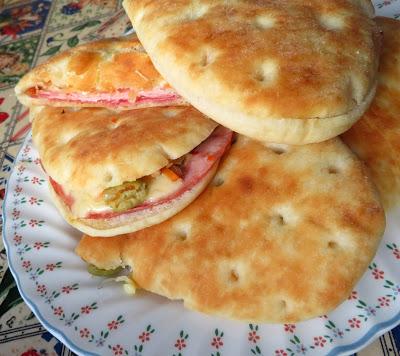 In all honesty however, more often than not it will be soup and a sandwich, which is fine by me. Todd doesn't mind either.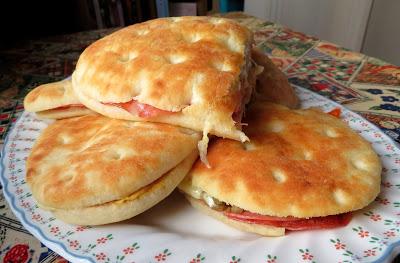 Especially when its a hot sandwich, stogged full of meat and cheese  . . .  These Rustic Italian Baked Sandwiches are real favourites!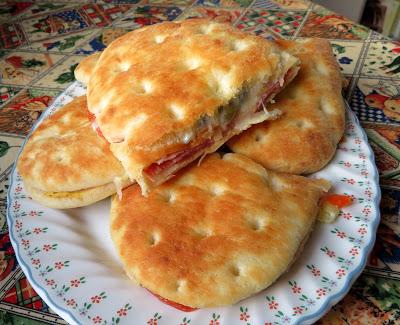 You are meant to use a sliced focaccia loaf for them, but this week I only had Deli-Kitchen Focaccia Thins to had, not a problem.  They worked fine.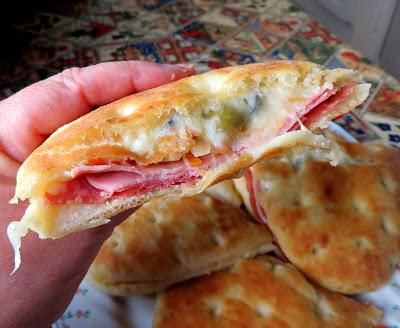 You spread the cut sides of the top of the loaf with mayonnaise, and the cut side of the bottom with spicy Dijon mustard.  Yum!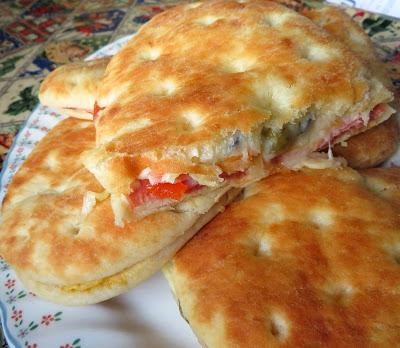 They are then layered with two kinds of meats . . .  thinly sliced Italian salami and thinly sliced Deli ham.  Both favourites.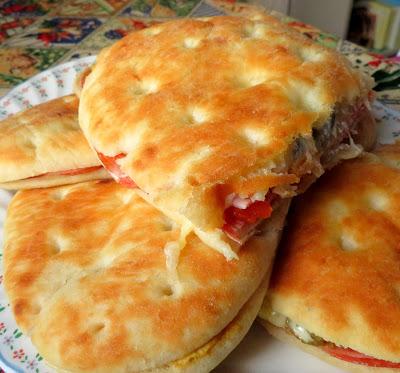 There is plenty of grated mozzarella as well.  Cheese and deli meats and hot sandwiches just go together very well I think!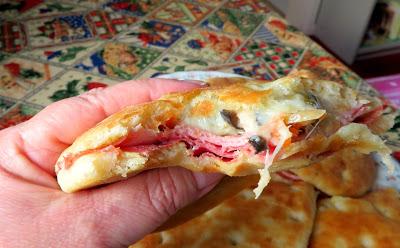 Add to the mix hot sliced peppers, and torn green olives as well as sliced black olives and you have the perfect taste combination.  Use as many or as few of those as you like.  You could also add sliced marinated artichokes if you wanted to and chopped marinated sun dried tomatoes.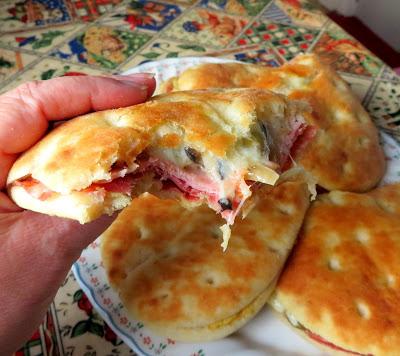 Today I kept it simple.  Once you have them all layered in you quite simply wrap them in foil and then bake them in the oven until everything is hot and the cheese is melted and oozy delicious!
Yield:
8
Author:
Marie Rayner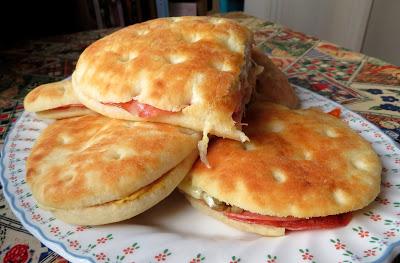 The Rustic Italian Baked Sandwich
These are so delicious and easy to make. You can make one large one, or small individuals.  Tasty either way you do it!
ingredients:
1 loaf of Italian focaccia bread, or four to eight smaller ones(depending on the size of the individual breads)
1/4 cup of Dijon mustard (63g)
1/4 cup Mayonnaise (55g)
1/2 pound thinly sliced Italian salami (225g)
1/2 pound thinly sliced deli ham (225g)
1 pound grated mozzarella cheese (450g)
hot pepper slices
pimento stuffed green olives
sliced black olives
instructions:
How to cook The Rustic Italian Baked Sandwich
Preheat the oven to 180*C/350*F/ gas mark 4.  You can either use one large focaccia bread, or smaller focaccia breads. I used 4  focaccia thins, which worked out wonderfully.  If you are using the larger one, slice it in half horizontally through the middle with a serrated knife and them cut each half into four so you have 8 square buns.  Spread cut sides of the bottoms with Dijon mustard, and the cut sides of the tops with the mayonnaise.  Layer the bottoms with salami and ham and sprinkle thickly with the grated cheese.  Top with hot peppers, torn green olives and sliced black olives to taste, finally placing the tops of the focaccia over all to form sandwiches.  Wrap tightly in foil and then place onto a baking sheet.  Bake for 30 to 35 minutes until heated through and the cheese has melted.   Serve hot.
Did you make this recipe?
Tag @marierayner5530 on instagram and hashtag it #EnglishKitchenCreated using
The Recipes Generator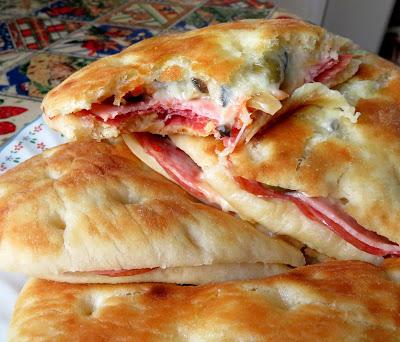 If you wanted to get really fancy you could brush the outsides with garlic herb butter before baking as well. These went down a real treat with hot mugs of tomato soup.  We were both very content with this simple dinner.  I think you would be too!