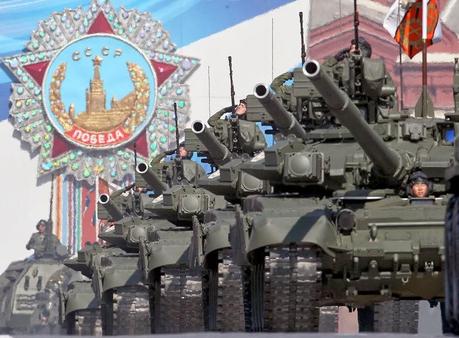 The dissolution of the Warsaw Pact and the subsequent break-up of the Soviet Union brought to a drastic reshaping of Russian military power. While the USSRcounted on a system of military bases and facilities spread throughout Europe, Africa and Asia, the Russian Federation maintained only a limited military presence outside its borders, mainly in its "Near Abroad." Since the withdrawal, in 2002, from the Cam Ranh Bay base in Vietnam, the naval facility in the Syrian port of Tartusis Moscow's only military base outside the former Soviet space, as well as one of the last traces of the Soviet military empire.
Following a list of the current Russian overseas military bases and facilities per country.
Abkhazia: 7th Military Base on the site of the former Bombora airfield, near Gudauta
Armenia
: 102nd Military Base in Gyumri and 3624th Air Base in Yerevan
Belarus
: Volga-type radar station near Hantsavichy and Baranovichi, and naval VLF transmitter near Vileyka
Kazakhstan
: Balkhash-9 Radar Station near Lake Balkhash, Sary Shagan proving grounds and the Baikonur Cosmodrome
Kyrgyzstan
: Kant Air Base and naval testing station at Lake Issyk Kul
South Ossetia
: 4th Military Base on the northwestern outskirts of Tskhinvali and Java, and troops in the Lelingor District
Syria
: Material-Technical Support Point in Tartus
Tajikistan
: military bases in Dushanbe, Qurghonteppa and Kulab, joint use of the Ayni Air Base and Okno space facility near Nurak
Transnistria: Joint Control Commission in the Dniester Valley Security Zone (SZ)
Ukraine
: Black Sea Fleet naval base in Sevastopol
However, the reaffirmation of the Russian power in Eurasia, and the always more unbearable US global military presence, are allowing Moscowto expand its military presence both within and beyond the former Soviet borders. After strengthening its position in the region by turning South Ossetia and Abkhazia into strategic bulwarks against NATO's eastward expansion, the Kremlin has improved military cooperation with former Cold War allies such as Cuba, Vietnam, the Seychelles and, most recently, Egypt, as well as with new partners such as Venezuela and Cyprus. As a result, the next few years may see the consolidation of the Russian military power also in those regions, such as the Mediterranean and the Caribbean, where Western military presence is stronger.
THE MILITARY POTENTIAL OF RUSSIA AND NATO IN THE MEDITERRANEAN