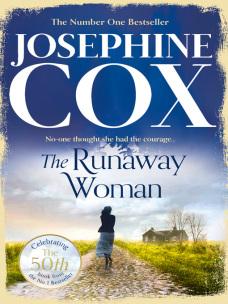 TITLE & AUTHOR: The Runaway Woman by Josephine CoxAMAZON.COM

This counts towards the Popsugar Reading Challenge 2016. The category is 'A Book Recommended By A Family Member'.
WHAT'S IT'S ABOUT
PUBLISHER: HarperCollinsEDITION: KoboOPENING
WHAT I THOUGHT
PUBLISHED: 1 January 2014PAGES: 433
SOURCE: Digital Library Book
No-one thought she had the courage...
Those looking in from the outside think Lucy Lovejoy's life is like any other, but at the centre of her family there is a big empty hole where all the love and warmth should be. Over the years, her children have watched while their father chipped away at Lucy's self-confidence. Now the children are following their own paths, and Lucy has never felt more alone.
When tragedy strikes at the heart of the family, it's a wake-up call for Lucy. Everyone has taken a little piece of her, and she isn't sure who she is anymore. So when Lucy faces a betrayal from those she loves deepest, she knows that it's time to make a choice.
Is she brave enough to find herself again?
DURING THE DAYM Lucy kept herself busy.
I really didn't enjoy this book. I find it hard to describe how awful it was.
Firstly, I cannot believe this is the author's 50 th novel. The style of writing is what you'd expect from an amateur writer who doesn't fully understand what they're doing. Every thought that stumbles across the mind of every character is reported verbatim. Everything is described in minute, almost painful detail. Scenes stop in the middle for a couple of paragraphs about what the characters are thinking about each other. There is no room for the reader to imagine or wonder because we're force-fed everything. The book is so tedious at times it becomes almost unreadable. The characters are one-dimensional and so bland I didn't give a stuff about any of them. Lucy is the single dullest character to ever disgrace fiction. We are told repeatedly, for pages and pages how downtrodden and sad and lonely and pathetic Lucy is. The author has a 'feel sorry for Lucy damn it' stick that she likes to smash the reader over the head with every half hour or so. The plot was yawn-worthy and predictable.
I wouldn't recommend The Runaway Woman to anyone and don't plan to read any more of this author.