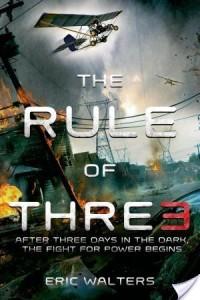 Buy the Book •
The Rule of Three
by Eric Walters
Published by
Macmillan on 2014-01-21
Genres:
Action & Adventure, General, Science & Technology, Social Issues, Violence, Young Adult
Pages:
416
Format:
eBook
Source:
NetGalley
Goodreads
One shocking afternoon, computers around the globe shut down in a viral catastrophe. At sixteen-year-old Adam Daley's high school, the problem first seems to be a typical electrical outage, until students discover that cell phones are down, municipal utilities are failing, and a few computer-free cars like Adam's are the only vehicles that function. Driving home, Adam encounters a storm tide of anger and fear as the region becomes paralyzed. Soon—as resources dwindle, crises mount, and chaos descends—he will see his suburban neighborhood band together for protection. And Adam will understand that having a police captain for a mother and a retired government spy living next door are not just the facts of his life but the keys to his survival, in The Rule of Three by Eric Walters.
I really enjoyed this book. I liked the main character Adam, he was very realistic. A young man with a head on his shoulders who wasn't to afraid to speak his mind, in a respectful manner,  when he thoughts things should be changed.  This story does a very good job of describing how things could be if all of a sudden we were without computers. How people and neighborhoods need to band together, to pool their knowledge and resources in order to survive. I like the fact that in this book they showed how hard this actually could be, not everything was easy peasy but when the community worked together they could make do. In this story Adam emerges as a young leader, he shows he has a head on his shoulders and is not willing to leave anyone behind. He sees awful things, but does not loose his hope and his optimism that help will come. His mom is the chief of  police, his younger twin siblings are also there while his father an airplane pilot is stranded many miles away in Chicago. They initially band together with their neighbor Herb who just seems to know what to do so that they can stay ahead of the danger to come. Together this group of 4 grows to encompass the neighborhood, and emerges as a pretty good replication of a normal society. I really liked how that happened, how Adam and Herb were able to draw people together for survival. They even formed friendships with other neighborhoods and traded goods and services, to make things better for both neighborhoods. But as always there is the bully out there, ones with the power to destroy, so not only does Adams neighborhood have to survive they need to find ways to protect themselves. With the ending of this story I am very hopeful that there will be another story to come, because I would love to see what else happened to this community. It was a fun and entertaining read.
Comments
comments