Former sedevacantist nuns reflect on their joyful return to the Church and on their lives in a thriving new religious community.by JIM GRAVES for THE CATHOLIC WORLD REPORT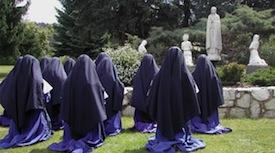 Five years ago, a major change came to the lives of Sister Mary Eucharista, a member of the Religious Congregation of Mary Immaculate Queen (CMRI), and 14 of her fellow sisters living at Mount St. Michael ("the Mount") in Spokane, Washington. Bishop Mark Pivarunas, the Superior General of the CMRI organization, told the sisters they had to leave the community if they did not stop promoting "heterodox" views among the other 35 sisters.
But their "heresy" was not the kind American Catholics have seen in some communities of nuns in recent generations. Sister Mary Eucharista and her sisters were asked to leave because they had come to believe that Pope Benedict XVI was indeed the legitimate head of the Roman Catholic Church.
The CMRIs were initially founded in 1967 with approval of Church authorities, but went on to embrace sedevacantism, separating themselves from the Church. As sedevacantists, they do not accept the legitimacy of any of the popes since the close of the Second Vatican Council.
"I feel a deep love and compassion for my former community," Sister Mary Eucharista, 52, says today. "They will always be special to me. But while I understand them, I can never go back unless they return to full communion with the Church."
Guitars and bongo drums
Sister Mary Eucharista was born in Southern California into a pious Catholic family. They prayed the Rosary together and often went to daily Mass. But the close of Vatican II brought major changes to her parish, St. John the Baptist in Costa Mesa. Guitars and bongo drums suddenly appeared at Mass, altar rails and statues were removed, and catechism teachers began publically denying Catholic teachings such as the existence of purgatory and the Assumption of Mary. One day, her mother noticed a holy water font was empty. She told a parish priest and he responded, "Fill it up with water and bless it yourself."
In 1969, Sister Mary Eucharista's parents learned of a new traditional Catholic school being founded in Coeur d'Alene, a northern Idaho resort area that has long been a draw for traditionalist Catholics. Its head was the charismatic Francis Schuckardt (1937-2006), who was originally part of the Blue Army apostolate committed to spreading the message of Our Lady of Fatima. Schuckardt founded the CMRIs as a community of priests, nuns, and religious brothers. The CMRIs would eventually make their headquarters at Mount St. Michael, a former Jesuit seminary in Spokane they had purchased. Sister Mary Eucharista taught at Mount St. Michael for 23 years.
The CMRIs object to the changes in the Catholic Church which occurred after the Second Vatican Council, particularly in the areas of ecumenism, religious liberty, and collegiality among bishops. They also hold to the celebration of the sacraments according to the pre-Vatican II forms, most notably the old Latin Mass.
Unlike other traditionalist groups—including the better-known Society of St. Pius X—the CMRIs are also proponents of sedevacantism, the claim that the papal see is vacant (sede vacante—"empty seat"). Thus they believe that Pope Benedict XVI—like John Paul II, John Paul I, Paul VI, and possibly John XXIII before him—is not really the pope. They argue that these popes espouse modernist doctrines over traditional Catholic teachings, and for this reason cannot be legitimate popes.  (Bishop Pivarunas was contacted for comment on this story, including discussion of his sedvacantist beliefs, but did not respond by press time. His defense of sedvacantism and other positions of the CMRI community can be read at the community's website.)
Mother Kathryn Joseph left the CMRIs along with Sister Mary Eucharista. "We came to believe the new Mass and sacraments were invalid, so we thought, how could Paul VI be the true pope? He must be an invalid pope, too," she explained.
Cult-like practices
Sister Mary Eucharista's family re-located to northern Idaho and joined Schuckardt's community. While many radical changes were occurring in the Church in the outside world, her family was content with the celebration of the old Latin Mass, educating children with the Baltimore Catechism, and religious men and women in traditional habits. However, Sister recalled, "The traditional environment kept us from being concerned about the cult-like practices of the group."
For example, women were required to wear long dresses and keep their heads covered; parishioners were encouraged to pray with arms outstretched and walk backwards out of church (so as not to turn their backs on the Blessed Sacrament); reading newspapers and watching TV were discouraged; smoking was considered a mortal sin; and the importance of a religious vocation was emphasized to the point of denigrating marriage.
Mother Kathryn Joseph added, "It seemed like an oasis of Catholic culture. We never saw ourselves as separate from the Catholic Church. In fact, we thought the Catholic Church left us. We didn't realize that we were becoming our own Magisterium."
Schuckardt led the community until 1984. He was ordained a priest and then a bishop by a bishop of the schismatic Old Catholic Church, giving him valid but illicit orders. However, Schuckardt was publicly accused by a fellow sedevacantist clergyman, Denis Chicoine, of being involved in homosexual relationships with underage associates, as well as of irresponsible fiscal management and drug abuse. Schuckardt denied the charges but left the community immediately.
Today, the CMRIs are led by Bishop Pivarunas, who was also ordained a priest and bishop illicitly. He lives at a CMRI seminary in Omaha, and oversees dozens of churches in the US, Canada, and New Zealand.
Entering the CMRI convent
Sister Mary Eucharista entered the CMRI convent at age 21. Her older sister was a CMRI nun …  [Read the entire article here]
If you enjoyed this post, make sure you subscribe to The Faith Explorer RSS feed!