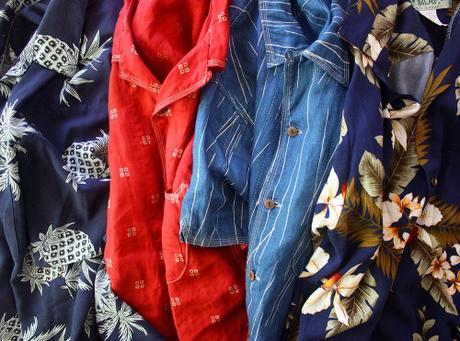 For decades now, the Hawaiian shirt has been something like the male equivalent of mom jeans. Fashion writers use the term as a shorthand to describe the poorly dressed – something you'd expect on golfing uncles, retirees in Florida, and suburban dads. The only other place you'd find them is on the wait staff at tiki-themed restaurants, and they presumably wear them under the threat of unemployment.
Things weren't always this way. In the early- to mid-20th century, Hawaiian shirts (or Aloha shirts, as they're called in Hawaii) were emblematic of a happier leisure style. Leading Hollywood men, such as John Barrymore and Douglas Fairbanks Jr., wore them on holiday. Elvis Presley wore a Tiare Tapa design when he broke hearts in "Blue Hawaii." Rat Packer Peter Lawford gave them a Las Vegas edge, while Bing Crosby made a signature look out of them with his hat and pipe. The best example of all might be Montgomery Clift, who wore tropical prints to great effect in the 1953 film "From Here to Eternity."
In some ways, the Aloha shirt was the perfect counterbalance to the oxford-cloth button-down. It was more casual, without being as dressed-down as a t-shirt, and connected to the kind of tiki and surf scenes that Americans loved in the 1940s and '50s. Rooted in Hawaii – where the shirt was born from a mix of native Hawaiian traditions, Japanese kimono silks, Filipino clothing styles, and Tahitian prints – Aloha shirts came in all sorts of colorful designs depicting the island's rich culture.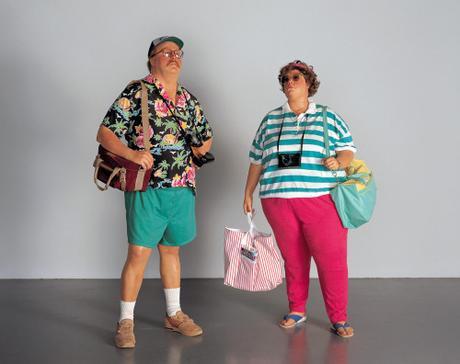 It wasn't until the 1980s that things started to turn sour. The popularity of a brawny, mustachioed Tom Selleck in "Magnum PI" convinced men that they could have the same magnetism if they just wore a hibiscus print. And, at this point, shirt designs started to become less about Hawaiian heritage and more about cartoony conceptions of vacation life – green parrots drawn alongside sloshing martini glasses, or mid-century souvenir-postcard motifs in faded colors.
The death knell, however, came in 1993, when Tommy Bahama set up big-box stores across America hawking cheap resort wear. This is the lasting image we have of Aloha shirts today – something worn with pastel-colored pants and heavily cushioned shoes. See Duane Hanson's contemporary art sculpture above, titled "Tourists II," which shows the Aloha shirt in its campiest form.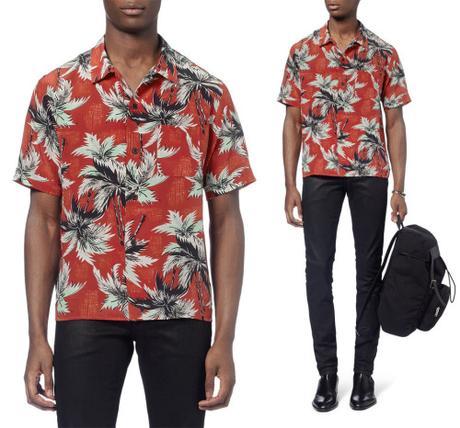 In the last few years, the style has started coming back in earnest. Luxury-brands such as Prada and Saint Laurent have used them in their darker-themed runway collections. A little sleazier and more LA-inspired, these feel more like "Scarface" than "Margaritaville." That sort of style isn't really my thing, but the collections did make me pay closer attention to Self Edge, who carries Japanese-made Aloha shirts with a rockabilly feel. Then, earlier this year, when my friend Pete wrote about them at Put This On, I finally decided to give them a try.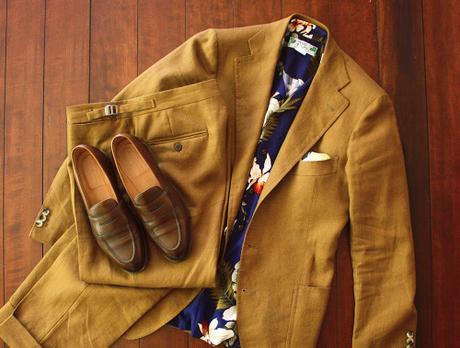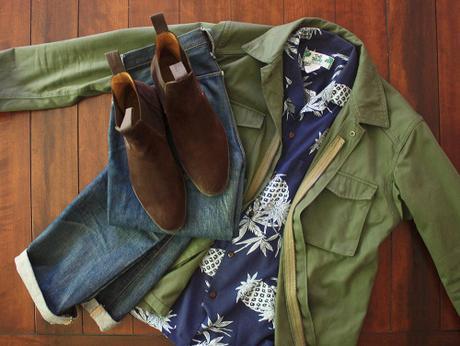 Turns out, I love Aloha shirts and find they can be worn with almost anything (so long as those things are casual and suited for summer). The bright, orchid print shirt from Two Palms above is paired with a cigar linen Napolisumisura suit and some Edward Green loafers for an off-duty, tailored look. The key here is to find something with long-enough shirt tails to tuck into your trousers, but this is easier if you have higher-waisted pants. I also like Two Palms' simpler (and more versatile) two-tone pineapple print with my Niche Army jacket, Stevenson Overalls Co. jeans, and suede Edward Green boots.
These Two Palms shirts are made from rayon, a breathable alternative to silk that's cool to the touch. It drapes wonderfully – much better than cheap cotton – but requires more upkeep. If you get one, keep in mind they'll have to be hand washed or dry-cleaned (no machine washing). The construction could also be better (the interlining is cheap and sewing mediocre), but the price is nicely affordable at just $45 per shirt.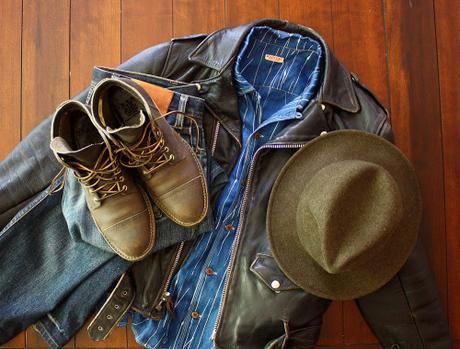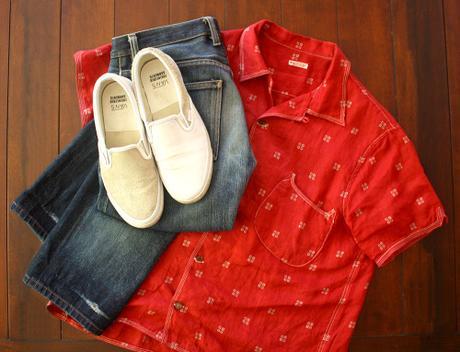 I've liked my shirts so much that I recently picked up these two Aloha-inspired shirts from Kapital. They're not true Aloha shirts, as the prints aren't right, but the looser sihlouettes, camp collars, and coconut buttons echo the originals. I wear this wabash print with my Schott double rider, 3sixteen jeans, Viberg service boots, and Lock & Co hat. The red, campaign dot shirt goes under chunky cardigans, or is worn on its own with beat-up jeans and (purposefully) mismatched Engineered Garments x Vans slip-ons.
These show a slightly more rugged way to wear Aloha shirts, but you you can swap out anything here to create a different look. The double rider can be traded in for a sleeker, more contemporary jacket (I like how Mr. Porter styled this Gucci Harrington), while a different Aloha shirt can be teamed with some chinos and espadrilles.
Half the battle is finding the right print (and there is a lot of chaff to sift through). Reyn Spooner, Tori Richard, and Roberta Oaks are popular first stops, although I like Sun Surf, Star of Hollywood, Yellow Rat, and Patagonia a little more. You can also go vintage or scour your favorite boutiques (The Bureau Belfast and Mr. Porter have some nice designs at the moment). One thing I've learned: slightly more subdued prints are a little easier to wear. As my friend Pete says, there's always a chance you'll look like an '80s-movie party animal in these things, so tread lightly.
The best defense I can give for the Aloha shirt: they're meant for summer, when you're probably already in questionable clothing choices (e.g. shorts, madras, seersucker, polos, t-shirts, washed denim, sandals, etc). Adding one more to the fun pile won't hurt.