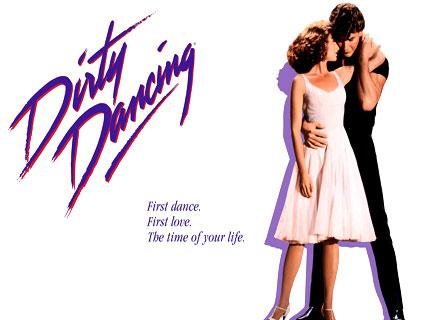 The poster for the original Dirty Dancing
Dirty Dancing, the 1987 film starring one-time world's sexiest man Patrick Swayze, and Jennifer Grey, is going to be remade by film production company Lionsgate. The choreographer of the original film, Kenny Ortega, will be directing, and there are plans to use some of the same music. But fans of the original – which basically includes any American woman under the age of 45, among many others – are crying foul.
The original was an Oscar-winning film about coming of age, forbidden love in a 1960s Catskills resort and dance, and, notably, featured the famous line, "Nobody puts Baby in the corner." It took in $214 million worldwide and spawned a TV series, a musical stage adaptation and a sequel Dirty Dancing: Havana Nights. But the musical adaptation drew this comment from The Guardian's Lyn Gardner: "It would take a complete rewrite for this to have any chance of being a satisfying theatrical experience, but there are clearly plenty of people who will be more than happy to throw away their money on this half-baked show." So what hope for the filmic version?
Many names are being thrown around for the lead roles: Justin Timberlake, Chris Hemsworth and dancer Derek Hough, who paired with Jennifer Grey on
Dancing with the Stars
. Emma Stone and, weirdly, Julia Roberts are being touted as possible Baby substitutes.
Whilst Jennifer Grey is positive about the remake (her co-star Swayze died recently of cancer), it has sparked some controversy amongst fans of the original. Few seem to want Baby back, still less to put her in a corner again.
"I'm so excited about this news and I think there's nobody better to do this than my beloved Kenny Ortega who is as responsible as anyone for the success of the first one.  I can't wait to see what he's going to do with it," said actress Jennifer Grey.
Hollyweird. Sherrill Fulghum on Allvoices.com was outraged: "[T]he clan in Hollyweird don't have an original bone – or thought – among them." Remakes are nearly always flops. "With all of the creative souls that inhabit Los Angeles, there should be at least a few original ideas so that the production companies don't have to keep looking in the past in order to reclaim past glory."
Please make it stop. It's an awful idea, agreed Kim Brown on Tulsa World. "This is a nightmare, wrapped in another nightmare." The original film  was "lightening [sic] in a bottle,"  with its combination of coming-of-age drama and dancing. Patrick Swayze "was brilliant", making "dancing seem masculine and exciting again. … He was one of a kind. There's just no recapturing that." She ended with a heartfelt plea: "Please make this stop."
"The opportunity to direct 'Dirty Dancing' is like returning home for me," Kenny Ortega said. "I believe everywhere you look there is evidence that the talent is out there and I can't wait to begin the process of discovering the next breakout triple-threats."
Hit me, Baby, one more time? More on music and film

Kanye West and Jay-Z collaborate
MTV ages badly
Kings of Leon cancel tour
Cowboys and Aliens film
Batman the Musical!