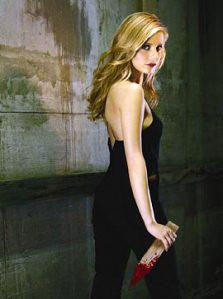 Photo Courtesy: buffyvamps.webs.com
Okay I got a little too excited. It isn't really the return of Buffy – the woman who slayed vampires in leather pants, but it is the return of Sarah Michelle Gellar to the small screen.
This evening at 9 p.m. on The CW, Sarah Michelle Gellar stars in "The Ringer." From all the previews that The CW is running, it seems like there will be not only one Buffy, but two Buffys! Dreams do come true.
From watching all the promos, it doesn't seem like the two Buffy dream lasts for very long, but hopefully there will be flashbacks that involve both Buffys. Let's be real – just like ice cream cones, two are better than one.
According to CWTV.com, "Sarah Michelle Gellar stars as a woman who, after witnessing a murder, goes on the run, hiding out by assuming the life of her wealthy identical twin sister – only to learn that her sister's seemingly idyllic life is just as complicated and dangerous as the one she's trying to leave behind." I'm shaking in my boots!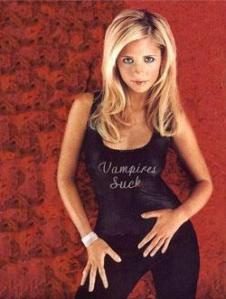 Photo Courtesy: graphicshunt.com
To be perfectly honest, I cried a little bit when I 1. Found out that SMG was returning to the small screen and 2. Saw the preview to this show.
In honor of Buffy the Vampire Slayer and SMG's return to TV, I thought I would post my favises Buffy moments. Let's do this!
Buffy – The Musical
Now before I begin my discussion of this Buffy era, I want everyone to know that I'm not a huge fan of musicals on television. I have only seen one episode of "Glee" and that was when Britney Spears was a guest star (obvi). When I first heard that Buffy was busting out a musical episode, I was a tad disgusted. But I gave the Buffy gang the benefit of the doubt. Why you ask? Well, they did make it seem normal that vampires and monsters could actually be in high school with you. Kind of makes perfect sense after all these years…
Turns out, the musical episode is one of my favises. The cast and writers really carried on the storyline successfully and added a little umph with the musical numbers.
Below is a clip from the musical episode where Buffy is singing her heart out. I can actually feel her pain throughout this number. Best part: when Spike creeps his way in. While everyone on earth would rather Buffy to heart Angel, I loved her with Spike…If loving Spike is wrong, I don't want to be right.
SMG – If "The Ringer" doesn't do so hot, you should consider becoming a backup dancer. I would suggest shaking that thing for a rap group, possibly Three 6 Mafia, but I don't think Freddy would take to kindly to that.
Stay tuned for more spectacular Buffy/SMG moments.