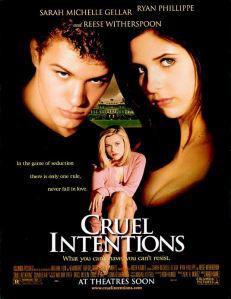 Photo Courtesy: impawards.com
While Sarah Michelle Gellar kicked ass as Buffy, she has accomplished many other feats in her time. Another favises SMG moment is when she embodied Kathryn Merteuil in "Cruel Intentions."
"Cruel Intentions" is based on the 1782 French novel "Les Liaisons dangereuses." This novel is described as "the story of the Marquise de Merteuil and the Vicomte de Valmont, two rivals (and ex-lovers) who use sex as a weapon to humiliate and degrade others, all the while enjoying their cruel games." Who knew they were writing such scandalous novels back then? I knew I should have bought that time machine off eBay.
I fully believe that anyone who has seen "Cruel Intentions" knows it's an iconic film in pop culture history. I believe there are many reasons for this, but I only want to mention two.
1. Joshua Jackson made a cameo…with blonde hair.
2. We saw Sarah Michelle Gellar like we've never seen her before.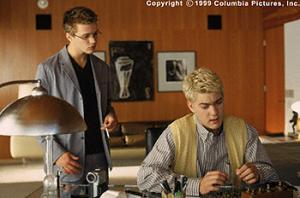 Photo Courtesy: allstarpics.net
SMG's character, Kathryn Merteuil "prides herself on destroying the lives of others whilst controlling them to suit her own ends." We see this description come to light throughout the film as she tries to destroy Cecile Caldwell's life (hilariously played by Selma Blair) just because Cecile is dating Kathryn's ex-boyfriend. How does Kathryn do that, she enlists her step-brother Sebastian Valmont (played by Ryan Phillippe) to sleep with Cecile and ruin her good girl reputation.
Enter Annette Hargrove (beautifully played by Reese Witherspoon) who is portrayed as the virtuous good girl of the headmaster. Sebastian and Kathryn make a life-altering bet that depends on Sebastian sleeping with Annette Hargrove. Welp, Sebastian falls for Annette (duh, it is Reese Witherspoon) and Kathryn gets pissed.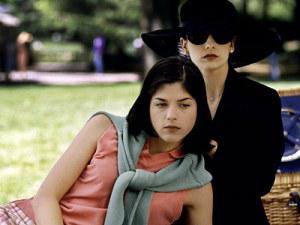 Photo Courtesy: tumblr.com
I'm sure I would get angry fan mail if I didn't mention this part of the movie…when Sarah Michelle Gellar and Selma Blair make out on screen. This movie came out in 1999, so this was a big deal back then. These two ladies won Best Kiss at the 2000 MTV Movie Awards…you remember their acceptance speech, right? These two even beat out Katie Holmes..that's a big deal in my book.
In the end, Kathryn gets what is coming to her. I mean who can get away with pretending to be Christian and storing cocaine in your rosary. I bet rosary sales went through the roof and catholic schools across the country brought in the drug dogs.
In case you haven't seen the film I won't Spoiler Alert you, but I will post the clip of the last scene.
While movie execs tried to ride on the successful coattails of "Cruel Intentions," the second and third films aren't worth mentioning…trust me.
Remember – tonight at 9 p.m. SMG is returning to TV in "The Ringer." Please watch, Sarah and Freddy have a baby to support!