This is one of the biblical passages that teach us the great doctrine of the rapture:
But we do not want you to be uninformed, brothers, about those who are asleep, that you may not grieve as others do who have no hope. For since we believe that Jesus died and rose again, even so, through Jesus, God will bring with him those who have fallen asleep. For this we declare to you by a word from the Lord, that we who are alive, who are left until the coming of the Lord, will not precede those who have fallen asleep. For the Lord himself will descend from heaven with a cry of command, with the voice of an archangel, and with the sound of the trumpet of God. And the dead in Christ will rise first. Then we who are alive, who are left, will be caught up together with them in the clouds to meet the Lord in the air, and so we will always be with the Lord. Therefore encourage one another with these words
. (1 Thessalonians 4:13-18).
Let's encourage one another with these words! How do we do that? I'm sure you have your ideas, but one way is simply to speak of this beautiful doctrine frequently. We must not be uninformed.
S. Lewis Johnson, who taught a pretribulation rapture, said of the text,
"
Then last time in our study we took a look at the calendar of future events. I hope we found it. I know it is exciting and thrilling, moving from the coming apostasy in the church — a measure that is already with us — through the advent of the Lord Jesus to the eternal state. We who are believers surely have a great hope – I'm not at all sure that we speak of it too much – in fact probably under the influence of criticism we do not speak of our heavenly hope enough
."
The rapture is getting such a terrible knock these days, and in some, it actually sparks anger! Johnson made that statement in 1976 that due to criticism sometimes we are too gun-shy to speak of it, and look at the growing apostasy now in 2014 and the anger and fervent hatred the doctrine brings up, even among "brethren". An example of it happened to me just yesterday.
This man named Justin W. White, who in his bio says he "loves theology", tweeted a response to my tweet regarding the Southern Baptist Convention's resolution to affirm that God-ordained gender is God's will and it's sin to change it (RE: transgenderism). I'd not mentioned rapture AT ALL, but in his response, he brought it up and used profanity too.
#SBC14 opposes "Heaven Is For Real" because it is non-scriptural, but they buy into a literal rapture? Yeah. about that.
I replied, "Because heaven tourism isn't biblical, but rapture is. (no the English word 'rapture' isn't in the bible, but the concept is)"
He answered: "the rapture is not a historical/orthodox doctrine of the church. It is modern bs made to scare people into moralism."
I seriously wonder how someone could be a Christian and NOT be comforted by the promises that Jesus is coming soon to gather His church to Himself!
How beautiful are the doctrines of His second return. Though the rapture isn't the Second Coming per se, it is a doctrine of last things which precedes His second and final return to earth to judge the living and the dead. He will call us up to Himself and we will always be with the Lord. How encouraging to look forward to!
John 14:1-3 says,
"
Let not your hearts be troubled. Believe in God; a believe also in me. 2In my Father's house are many rooms. If it were not so, would I have told you that I go to prepare a place for you?b 3And if I go and prepare a place for you, I will come again and will take you to myself, that where I am you may be also
."
Just reading those words are so very comforting. Knowing that the Lord is preparing a place for us, that He is returning for us, that He will resurrect our loved ones alive and dead, and bring up the ancient saints who died even during the apostolic age, that we will be given our glorified (sinless!!) bodies, that we will be with Him...there are so many encouraging things to look forward to!
S. Lewis Johnson, who taught a pretribulation rapture, said,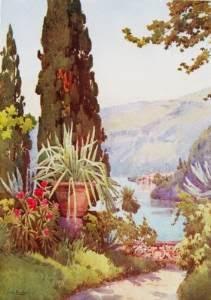 Lake Como: Garden, Villa Arconati, 1905
"The doctrine of the rapture of the church is an important doctrine for us. I say doctrine that suggests for us faithfulness in service. It should be a motive and incentive to give ourselves to devotion to the Lord Jesus. It should also have tremendous motivation in evangelistic activity. I refer to our own personal testimony. It also should be a comforting doctrine."
There is an old story about a man who visited the Villa Ara Connate in Italy. He saw the gardener. The grounds were kept in beautiful shape, speaking to the gardener he said, "When does the owner of this villa come here?"
He said, "Well, I've been working here for 20 years, and he's only been here four times."
"When was the last time that he was here?"
"12 years ago."
"Who takes charge? To whom do you report?"
He said, "I report to a steward in Milan."
"Why, you keep these gardens as if you were expecting the owner tomorrow."
And the gardener replied, "Today, sir. Today."
"That really is the kind of attitude provoked by the doctrine of the rapture of the church as the next significant prophetic event. I think that on balance the Scriptures teach that the Lord Jesus to come again for the church imminently, and that we have reason from Scripture to look for the blessed hope and glorious appearing of our great God and savior Jesus Christ."
So this great prophetic message has tremendous moral value. We should never think of the doctrines of the word of God with reference to the future as simply doctrines that tickle our curiosity. They are doctrines that are designed to affect our spiritual life. They are designed to make us more moral, more spiritual, more Christian in all of our activity. ~S. Lewis Johnson
"...to be with the Lord." Now, THAT is heaven. Do not let satan steal your hope. Do not let criticism suppress your encouragement of the brethren. Do not let liberal seminaries forget to teach this important doctrine. Do not be shushed in church.
"
knowing this first of all, that scoffers will come in the last days with scoffing, following their own sinful desires.
" (2 Peter 3:3)As one of the commenters said, "Their very scoffing shall confirm the truth of the prediction."
_____________________
Further Reading:
J. Vernon McGee:
The Rapture is Next
John MacArthur:
The Rapture
(14-min video explaining the rapture & why it is pre-trib)