I received this book for free from NetGalley in exchange for an honest review. This does not affect my opinion of the book or the content of my review.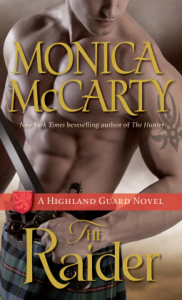 Buy the Book •
The Raider
by Monica McCarty
Series:
A Highland Guard Novel
Published by
Random House on 2014-02-25
Genres:
Fiction, General, Historical, Medieval, Romance, Scottish
Pages:
384
Format:
eBook
Source:
NetGalley
Goodreads

After consolidating his gains against the enemy English, King Robert the Bruce of Scotland sends his best soldiers to fortify the lawless borders. These legendary warriors of the Highland Guard let nothing come before king and country--except the calling of their heart. Of all Bruce's elite warriors, Robert
Once again another Highland Guard book that I couldn't put down once I picked it up. This story of Rosalin and Robbie is very reminiscent of Romeo and Juliette. Both Robbie and Rosalin are very interesting characters. Rosalin as the beloved younger sister of  Clifford a thorn in the side of Robert Bruce and Robbie is Bruces' enforcer, not a great start to a romance I'd say. The story starts out 6 years before the main story when Rosalin helps Robbie escape from her brothers dungeon, they both never thought to see each other again even though the spark of interest was born that day. Now Rosalin is older but still pretty innocent in regards to what has been happening between the Scots and the English. When she and Robbie are thrown together again they both see the same events through completely different sides. It takes time for them both to really see that both sides have been wronged and things as they initially see them many not really be as they really are. The growth in the characters is fun to see, its fun seeing Rosalin stand up to Robbie and to seen them come to be friends and then to see that spark of romance ignite into love. To see people from completely different view points come together and actually see things from another perspective was interesting to watch. The rest of the Highland Guard  was as usual an nice entertaining break from the seriousness of Rosalin and Robbies' situation. I really enjoyed learning more about Robbie and seeing him grow and become the man that Rosalin needed, it also was nice to see Rosalin grow enough to break free of her brothers complete control and come into her own as a strong and able woman. This all in all was a great read and if you've read any of the other Highland Guard books you will enjoy this one as much as those. And even if you have not read any of the other Highland Guard books you will also love this book and I'm sure after you read this one you will want to read the others.
Comments
comments