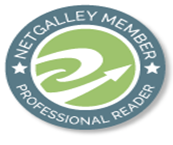 The sixth gripping thriller in Lars Kepler's bestselling series featuring Joona Linna. Perfect for fans of Stieg Larsson and Jo Nesbo.
There's a face at the window.
A masked stranger stands in the shadow of a garden, watching his first victim through the window. He will kill him slowly - play him a nursery rhyme - make him pay.
A killer in your house.
The police offer ex-Detective Joona Linna a chance to clear his name: help Superintendent Saga Bauer track down the vicious killer terrorising Stockholm, before he strikes again.
Only one man can stop him.
Now Joona stands between a disturbed predator and its prey. He must catch a killer who hunts in the shadows and who is dangerously close to losing control...
***
[It's early morning and the still water of the inlet is shimmering like brushed steel]
***
(@HarperCollinsUK, 3 May 2018, 528 pages, ebook, copy from @HarperCollinsUK via # NetGalley and voluntarily reviewed)
***
***
This is the second book I've read by the author. I thought it was great and also enjoyed Stalker so I might need to check out his other books. I'm a fan of Scandinavian thriller as they tend to be a bit more sinister and gruesome than their UK/USA counterparts. The Rabbit Hunter is no exception. I loved the concept of a killer lurking in the shadows of their victim's homes. This gave me the chills. I loved the fact the killer is confusing and taunting his victims and the authorities by reciting an old nursery rhyme about rabbits. This book chilled me. I liked the fact the hero, Joona Linna is far from perfect and is in prison for much of the book. This added an interesting dimension. I really must read other books in the series.