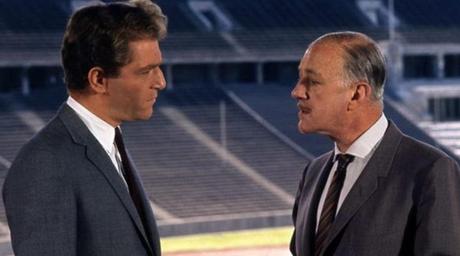 Director: Michael Anderson
Writer: Harold Pinter (Screenplay) Trevor Dudley Smith (Novel)
Starring: George Segal, Alec Guinness, Max Von Sydow, Senta Berger, George Sanders, Robert Helpmann
Plot: In the West Berlin of the 1960s, two British agents are killed by a Nazi group, prompting British Intelligence to dispatch agent Quiller to investigate.
Runtime: 1 Hour 44 Minutes
There may be spoilers in the rest of the review
Story: The Quiller Memorandum starts when American agent Quiller (Segal) is assigned to help British intelligence agent Pol (Guinness) to head to Germany to help investigate the death of other British agents. Quiller must learn whether there is a new Nazi regime growing within Germany.
The deeper Quiller gets into Germany, he will learn more about what is going on, learning he might just be a pawn between both sides or is there meant to be a bigger picture going on.
Thoughts on The Quiller Memorandum
Thoughts – The Quiller Memorandum is a spy thriller that comes in the height of the aftermath of the wars, showing how both sides could still be trying to get ahead of each other and people will still be operating in secret. We do follow one man as he looks to get into learning about the truth, but will always need to be looking over his shoulder to make sure he is safe. This is the type of story we have seen before and we continue to see, one that is easy to watch and one we can all get behind watching. The performances in the film are strong with George Segal in the leading role giving us a charismatic figure. The film uses the settings to show us just how the different organisations would operate away from the public light, looking to get ahead of each other in the growing battles.
Final Thoughts – The Quiller Memorandum is a by the book spy thriller that is carried by a great leading man performance from George Segal.