I am writing this just as RHS Chelsea Flower Show gets ready to open. I always enjoy this show, which for me is one of the highlights of the gardening year. I love seeing the show gardens and like many gardeners I spend a lot of time looking at which plants are used and how they are used. Mark Straver is the CEO of Hortus Loci, regular readers will recall that I have recently been there and it is a happy coincidence that I have been able to ask Mark if he would like to take part in my series of blog posts where I ask all who take part the same set of questions.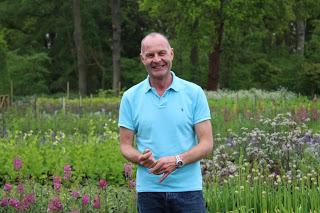 Hortus Loci sources and supplies wholesale plants from all over the world. As I write this they have supplied over 40,000 plants to a variety of show gardens and displays atand also RHS Chelsea Flower Show. Show Gardens they are involved with at this year's Chelsea Flower Show include ' The Welcome to Yorkshire Garden' and the Tom Dixon in collaboration with IKEA, 'Gardening will save the world' garden RHS Bridgewater Garden.
The Questions
In which garden do you feel happiest?
When I was a little boy my parents took me to Savill Garden pretty much every week. As a keen fisherman, I loved it as there's a big lake and then you have the wonderful gardens. There's even a totem pole!
If you could only have five garden-related tools, which would they be?
What skill would you like to learn and why? (does not have to be garden related).
I would love to learn more languages. I spend a lot of time abroad and I wish I was multilingual.
If you could visit any garden right this minute, which one would it be?
It wouldn't be a garden but a spot on the River Exe called Straver's Pot which is actually named after my Dad (he caught five salmon in one day there). It's a beautiful part of the river, everything around is a completely natural landscape.
What do you wish you could do better?
Creating more down time as I'm rubbish at that. I work too much.
With grateful thanks to Mark for taking part and to Emma Mason PR
More responders to the The Questions can be found here.