James Alexander Sinclair is a well known garden designer, writer, speaker and television presenter.  He has designed gardens all over Great Britain and as far away as Russia.  He has presented items for Gardeners World and the BBC Chelsea Flower Show coverage.  Back in the day he presented the BBC series Small Town Gardens and recently was one of the judges for the Great Chelsea Garden Challenge.  He is also a member of the RHS Council and an accredited RHS judge and Chairman of the RHS Gardens Committee, so in short, a busy man.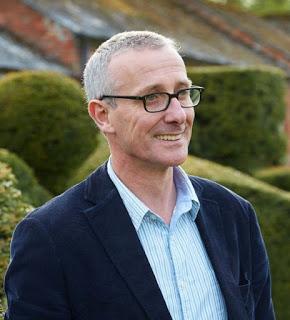 James is well known on the garden speaker circuit, his talks are always informative and entertaining.  James is going to be making the Leicestershire and Rutlands Gardens Trust Celebrity Lecture on September 16th at 7.30pm, more information can be found here: 
http://www.lrgt.org/celebrity-lecture--james-alexander-sinclair_E112.html
and in between all this business, he found time to answer my questions, for which I am most grateful.
The Questions
1. In which garden do you feel happiest? My own – even though it is new and overflowing with rubble and semi naked builders.
2. If you could only have five gardening tools, which would they be? My secateurs (Felco number 2 although I am being courted by a Niwaki pair), a stainless steel trowel that I was given for my birthday years ago and which spent at least three years of its life accidentally buried in the compost heap, a small border fork,  a good wheelbarrow & a black dustbin. Oh and an iPod.
3. If you could only have five garden-related books, which would they be? Anything by Beverley Nichols (because he makes me smile), the RHS Encyclopedia of Garden Plants, The Potting Shed Papers by Charles Elliott, Late Summer Flowers by Marina Christopher and The Garden Tree by Alan Mitchell and Allen Coombs
4. What was the most defining moment of your life so far? Being born, meeting my wife, the births of my children.
5. What are you most proud of? Not being found out…
6. If you won the lottery, what would you do? Try not to worry too much.
7. Who are your garden heroes (no more than three) Geoffrey Jellicoe, William Kent & Carol Klein
8. What skill would you like to learn and why (does not have to be gardening related) Parachutimg.
9. If you could visit any garden right this minute, which one would it be? One without rain. Probably the Isola del Garda in Italy
10. What is your current plant obsession? Hydrangeas
11. Which garden tool is never far from your hand? My secateurs and my telephone
12. What is your favorite gardening/plant related word? Mulch.
13. What do you wish you could do better? Organise myself.
14. What is the most important lesson you have learned so far? Today is much more important than tomorrow
15. What makes a perfect day for you? Sunshine and a packet of Jaffa Cakes
16. If you had one piece of advice to offer to someone what would it be? Never, ever work for someone you don't like.
17. Gnome or no-gnome? Like triumphal arches, Hypericum, coloured paving, grottoes and scratchy underwear, Gnomes have their place. Somewhere.
Next Time
:  Sara Venn