The Queen of Sheba
Now when the queen of Sheba heard of the fame of Solomon concerning the name of the Lord, she came to test him with hard questions. 2 She came to Jerusalem with a very great retinue, with camels bearing spices and very much gold and precious stones. And when she came to Solomon, she told him all that was on her mind. 3 And Solomon answered all her questions; there was nothing hidden from the king that he could not explain to her. 4 And when the queen of Sheba had seen all the wisdom of Solomon, the house that he had built, 5 the food of his table, the seating of his officials, and the attendance of his servants, their clothing, his cupbearers, and his burnt offerings that he offered at the house of the Lord, there was no more breath in her.
6 And she said to the king, "The report was true that I heard in my own land of your words and of your wisdom, 7 but I did not believe the reports until I came and my own eyes had seen it. And behold, the half was not told me. Your wisdom and prosperity surpass the report that I heard. 8 Happy are your men! Happy are your servants, who continually stand before you and hear your wisdom! 9 Blessed be the Lord your God, who has delighted in you and set you on the throne of Israel! Because the Lord loved Israel forever, he has made you king, that you may execute justice and righteousness."
(1 Kings 10:1-9)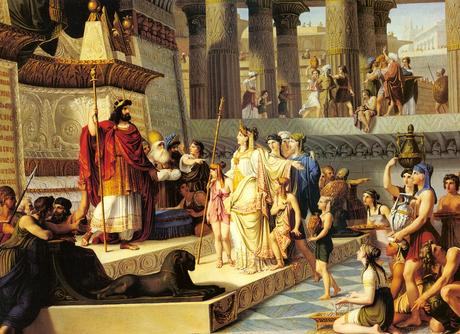 Solomon and The Queen of Sheba, Giovanni De Min 1789–1859
It was quite an undertaking for the Queen to gather such riches, assemble slaves and servants, and leave her kingdom in what could be mischievous hands, for a lengthy and dangerous journey for many months...to see Solomon and hear his wisdom.
King Solomon is acknowledged to be the person with the most wisdom who ever lived. (2 Chronicles 1:11-12). If the fame of Solomon's wisdom and right judgements caused the Queen of Sheba to journey for many hundreds of miles to see for herself, learn from him, and test him with hard questions, what will it be like for us when we see Jesus ruling and reigning with perfect wisdom and justice from His temple in the Millennial Kingdom (Ezekiel 43:7, Revelation 20:4)?.
How much are we willing to travel and sacrifice to hear the wisdom of Jesus?
In verse 5 it says that Sheba's very breath was taken away, so amazed was she at Solomon's wisdom and his house and possessions. Yet how breathless will we be in seeing our perfect and holy Jesus render justice, and how beautifully adorned His house will be!
 Go out of your way to seek Jesus and His statutes. There's nothing else like them on earth.