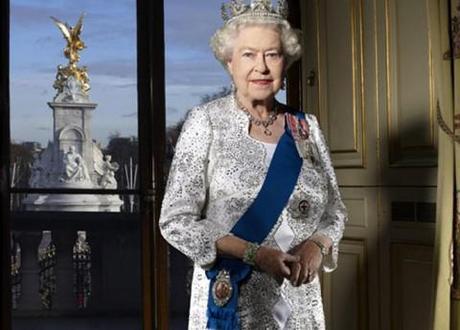 Queen Elizabeth II has sat for more portraits than any other monarch. photo: Kvasir79
The background
It's a big year for pictures of the Queen: As her Diamond Jubilee approaches, images of Britain's monarch are popping up in exhibitions across the country.
Next up, The Royal Society of Portrait Painters' annual exhibition opens Thursday, and includes previously unseen sketches of the Queen, drawn by artists in preparation for portraits, and a brand-new commissioned portrait of her husband, Prince Philip.  The exhibition, held at The Mall Galleries, includes over 200 painted and drawn portraits, selected from over 1,300 entries submitted from across the nation. The subjects also include celebrity figures such as Cuban ballet dancer Carlos Acosta, actor Joseph Fiennes, and even the new England manager Roy Hodgson. The exhibition closes on 18 May 2012.
The collection is one of many that are celebrating visual representations of the monarch in her Jubilee year: The National Portrait Gallery's The Queen: Art and Image will open on May 17, and will include Chris Levine's hologram portrait, whilst the Leeds City Museum will be showing a collection of Sir Cecil Beaton's photographs of the Queen.
As the profusion of images of the Queen approaches excessive, we'd like to offer up a few facts about Her Majesty and the history of portraiture.
Frequent sitter
In her lifetime, the Queen as sat for more than 140 painters, from the notoriously tempestuous Lucian Freud to BBC television artist Rolf Harris; that's supposedly more than any other monarch, The Telegraph claimed. She's also sat for at least 11 sculptures. Artist David Poole was interviewed in The Telegraph speaking about his experience painting portraits of The Queen; he described her as an obliging, enjoyable sitter: "She couldn't have been more helpful. She kicked off her shoes. Totally relaxed. Her sense of humor is incredible."
The Princess's first portrait
Her Majesty was just 7 years old when she sat for her first portrait in 1933; her mother commissioned the Hungarian artist Philip Alexius de László to paint the future monarch.
The world's first hologram portrait
The Queen sat for the world's first hologram portrait in 2004, though she has since been one-upped by the late Tupac Shakur, whose hologramed person was recently seen rapping on stage with Snoop Dogg at Coachella. Artist Chris Levine was commissioned by the Isle of Jersey to create the portrait, as commemoration of the island's 800 years of allegiance to the crown. The life-size, 3D image, titled Equanimity, was created from more than 10,000 still photos and 3D data-sets Levine took of the Queen over two days at Buckingham Palace.
The first monarch to appear on notes
Surprisingly, given how many monarchs' heads were stamped on coins, Queen Elizabeth II is the first monarch to be depicted on Bank of England notes. The first note was the £1 and it featured a portrait of the Queen from 1960, designed by Robert Austin.
More on the Queen

The Queen marks Accession Day: 60 years on the throne
Who snubbed the Queen's Honours?
Royal yacht plan torpedoed