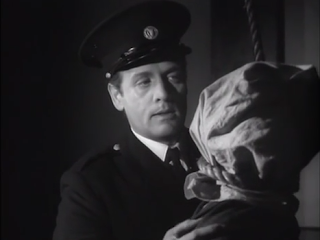 "We never hang a man unless he's in the best of health!"
Brendan Behan's satiric
The Quare Fellow
was a success on the Irish stage, a bitter jailhouse comedy inspired by his own prison experiences. Anglo-German director Arthur Dreifuss removes the humor for this 1962 film, which possesses all the dourness expected from a '60s British drama.
Thomas Crimmin (Patrick McGoohan) arrives for his first day as warder at Dublin's Mountjoy Prison. Among his duties is overseeing the hanging of "the Quare Fellow," an unnamed convict imprisoned for murdering his brother. Crimmin meets Kathleen (Sylvia Sims), the convict's wife who has evidence mitigating his guilt. Crimmin tries to help, but the senior guard (Walter Macken) and prison governor (Phillip O'Flynn) express little interest.
The Quare Fellow
goes full kitchen sink, with Dreifuss and photographer Peter Hennessy plumping for a stark prison portrait. Their signature shot is a warder ringing a triangle as prisoners and guards scurry about in the deep background.
Quare
takes place within an imposing set with steep stone walls, sparse cells and an echoing solitary pit. Inmates unnerve the guards by singing the blues and tapping messages through the pipes.
Dreifuss mixes expected scenes of brutality (a prison riot, a suicide) with more measured moments. Inmates swindle Crimmin out of booze and dig the condemned man's grave. The Governor chats with a prisoner who fought with him in the Easter Rising. Guards are uniformly worn out, hating their jobs and the penalty. The most striking scene has the hangman (Arthur O'Sullivan) leaving his noose at the bar, being swarmed by angry patrons. Many have friends in jail; all resent the "screws."
In this environment, there's little room for humor.
Fellow
's surviving jokes are sour irony, like the doctor (Leo McCabe) examining prisoners or a chaplain (Hilton Edwards) cracking that hanged men receive holier deaths than civilians. Crimmins beds Kathleen, who desperately hopes for a reprieve. This storyline quietly fizzles out, making
The Quare Fellow
a depressing walk to the gallows.
Patrick McGoohan plays Crimmin with one-note earnestness. Always a compelling actor, McGoohan dampens his habitual fire for a moody, repressed characterization. Sylvia Sims performs with sultry, wounded hauteur, easily the most sympathetic character. Walter Macken plays a cynical guard with required crustiness. Familiar faces Hilton Edwards, Leo McCabe, Arthur O'Sullivan, Marie Kean and T.P. McKenna are among the supporting cast.
With its solid acting and stark atmosphere,
The Quare Fellow
has its virtues. But without Behan's black humor, its only note is unceasing bitterness.