Now this one clearly goes to the Indian government! They've made an astounding discovery this time around. They call it the Privilege Motion. And it's no mean tool. It will really go a long way in cleansing the environment of unnecessary sound pollution. It has been tested on anti-corruption crusaders and is expected to prove its efficiency. The conclusions of the experiment will be out soon for "we the people".
But we are informed that it has already caught the imagination of the who's who around. For instance UP CM Mayawati is planning to issue a Privilege Motion to Wikileaks for releasing private information about her. Well ofcourse if her private jet flies empty all the way from Lucknow to Mumbai to get her favourite pair of sandals, it's absolutely private. If her PSO cleans her shoes even though at a public function, it's between her and her PSO. It's private again. WTF has the world or for that matter Wikileaks has to do with it??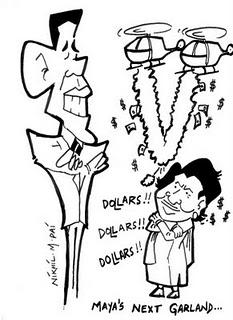 And this isn't enough. Wikileaks may have more coming. Home minister P Chidambaram's son was also waiting for such a weapon ever since Wikileaks exposed his conversations with US diplomats about how "Indian politicians bought votes with notes tucked inside morning newspapers.
Damn! Now why should anybody get bothered about this even? This was part of their Political Social Responsibility. People needed money. Well who doesn't need money? And their leaders, their well-wishers gave them money. And they never asked for a fortune in return. They just asked for stamp (against their election symbol). That's it!
Wikileaks has no work these days it seems. Keeps getting bothered about this and that. So for all this devil's workshop that it is running, it deserves a privilege motion to begin with. Right?
Popularities travel fast just as lies do. So the miner Reddy bros Janardhana Reddy and Srinivasan Reddy are contemplating issuing a privilege motion against Sonia Gandhi & Co. Janardhana thought of this after the CBI seized Rukmini after arresting him. Uh! I knew you would have got ideas by now. Adulterated minds I say. Rukmini is not his girl friend. It's the name of his private chopper. These dudes were flying high!! Nay! they were diggin' deep. Yo!
And ho! Rakhi Sawant is thinking of insuring her "assets" which include her cleavage and her butts. "After all," she says, "they earn me my bread & butter."  Rakhi tussi privileged ho! Well, privileged to have insurable assets.