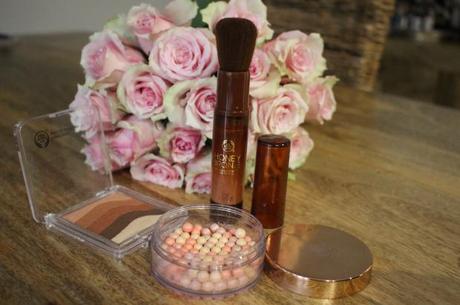 Two weeks ago today I was in a taxi on the way to The Pride of Britain Awards. It was the most magical night (I MET SIMON COWELL and was stood a show-stopper's distance away from Mary Berry herself) but before I fill you in on all the glitz and glamour of the event itself, here are a few of the red-carpet worthy beauty products that played a crucial part in the getting ready process. Read on to discover some pretty special lotions and potions.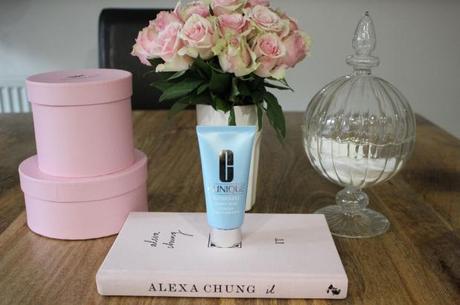 Clinique Turnaround Instant Facial Masque 
My invitation to The Pride of Britain Awards was fairly short notice so I only had time to book in for basic treatments. I did manage nails, toes, lashes (LVL is an absolute saviour), brows and tan but unfortunately couldn't fit in my favorite things of all time, a massage or a facial. Luckily I was sent this handy facial in a tube by the lovely team at Fragrance Direct. God knows what is in this tube but it works wonders on dull skin. This is a must have product when you have a special occasion coming up. Slather it on and relax for five minutes while it works its magic. It's made up of tiny exfoliating beads that smooth your skin as you wash off the masque. And it's blue which I quite liked as well.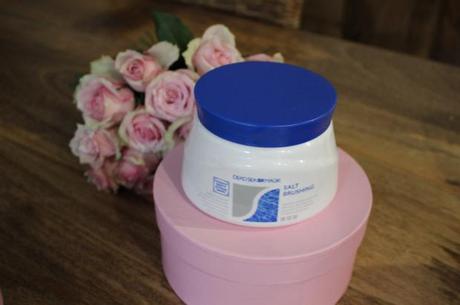 While we're on the subject of exfoliation, I've discovered the perfect pre-tanning treat. This salt brushing product by Dead Sea Spa Magik  is supposed to be massaged onto dry skin before you jump in the bath or shower and it's made up of salt rocks so you can rest assured it means business. It is packed with dead sea minerals and delivers scrumptiously smooth skin in seconds! I'm pretty sure it tackles cellulite too. This is great for removing those last few traces of tan as well.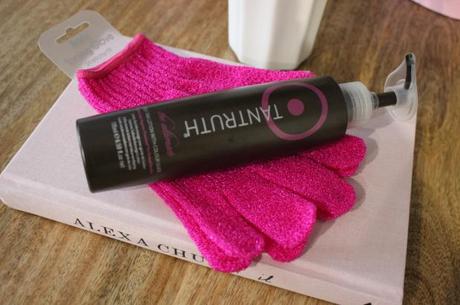 I had fake tanned on the Saturday in preparation for the event as I had picked out a backless dress to wear but by Monday it was fading slightly so I topped it up with Tan Truth. It's deliciously dark and has a smooth, shimmer free finish. I'd never heard of this brand before but now that I've tested it, it's won a place in my weekly rotation.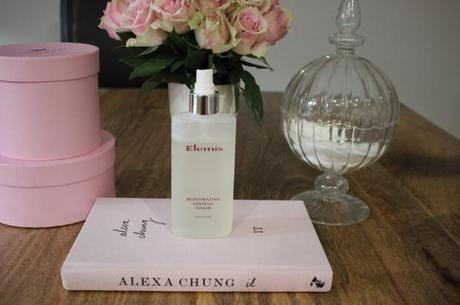 Dear Elemis, never ever stop making this toner. I've been using this Ginseng toner by Elemis for a few weeks now and I'm a little bit addicted. I'm also a little obsessed with this perspex pot that acts as a little house for cotton wool pads (Note to self: Get out more). It tightens pores and instantly makes your skin feel brighter and tighter. This has knocked my old faithful Liz Earle toner well and truly out of the water (sorry Liz). You can find it here.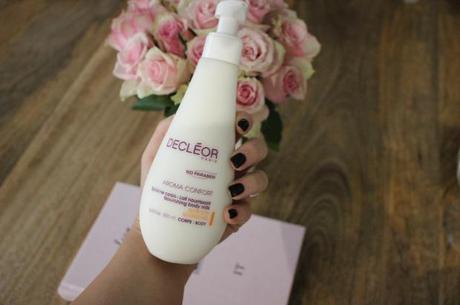 I'm always a bit wary of using moisturiser along with fake tan. Sometimes it makes the fake tan glide on easier but sometimes it can repel it. I use a thick Palmers one religiously but it just doesn't do for tanning days. This Decleor body milk is lightweight enough to leave your skin feeling silky without ruining your tan application. A must for tan-o-holics like me.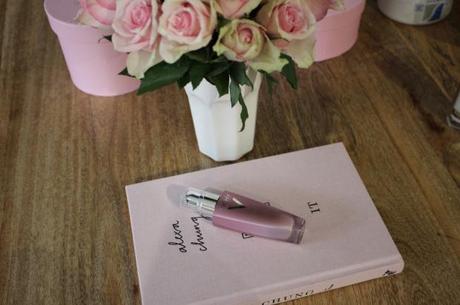 My favorite thing about going to exciting events is wearing luxurious products that you usually wouldn't. I swapped my usual beauty flash balm for this Vichy Idelia Life Serum. I already use the Vichy moisturiser and I can't live without it so I was really excited to try out the serum. I'd never used a serum before but this one makes your makeup glide on like a dream. It is pricey but something I'll only use before a night out so it will probably last ages.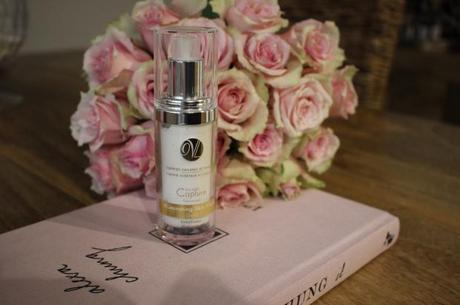 Now this is a spectacular addition to my beauty collection. It's a handy little highlighter from Vita Liberata. It catches the light so you pop it everywhere that you want illuminate. It has the most beautiful pearlescent finish and can be used everywhere to chisel cheekbones or create the illusion of leaner limbs. Very fancy. I love the packaging and the results are incredible.  You only need the tiniest bit to enhance tanned skin. It's like liquid gold. I wonder if this is what Michelle Keegan uses to get that glow? If you can confirm or deny this please leave a not in the comments. There'll be a more in-depth review on this in the future as I'll be using this a lot on the run up to Christmas and want to include swatches so you can see exactly how beautiful this product really is.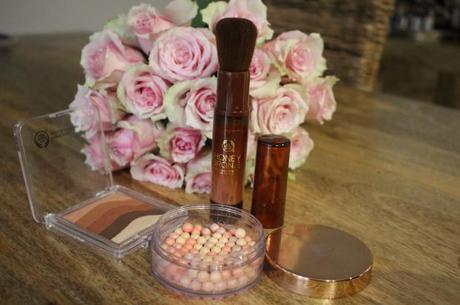 Incase I didn't have enough fake tan *ahem* I went to London armed with bronzing goodies. When it comes to getting ready for a special event, I firmly believe you can never be too bronzed. Like a natural tan, it makes your teeth look whiter, your eyes look brighter and your skin shinier. I always think it's good to have some sparkly products to play with when you have time to spare. This stops me from slowly adding more and more eyeliner which is what I tend to do when I'm nervously waiting for a taxi. The Body Shop is a brand that continues to surprise me. The Honey Bronze range will ensure you sparkle and it's cheap as chips. First up is the Honey Bronze Brilliance Powder which is like a magic wand that bronzes everything in its path. I personally think its a bit full on for the face but it's great for the décolletage. For the face I used this shimmer waves compact. You can use each shade separately or sweep a brush over all five. I opted for shade 1. Lastly I used the Brush on Radiance to add a pink hue.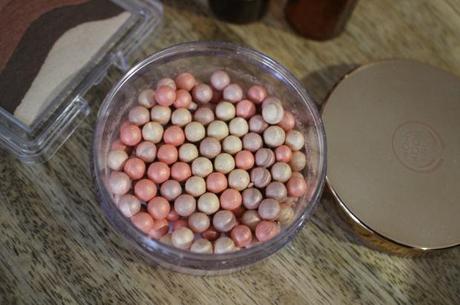 Just look at those pretty pearls…. They are pink-toned to give you a subtle glow. Apply this before you pour yourself a glass of getting ready champers. I know, this goes against everything I believe in too but trust me you need your wits about you for this one. The last thing you want is thousands of pink peals pinging around the room and ricocheting off your little black dress. Definitely don't try it after your second glass of champers. The same applies for the shimmering wand. Sometimes, there is such a thing as too much shimmer. .
Speaking of pretty pink things. How adorable is this little heart shaped makeup pouch from Sew Lomax? It's the ideal size for traveling with and it has a handy little mirror on the back. And that's a lipstick on the front, not a salt shaker like my other half suggested.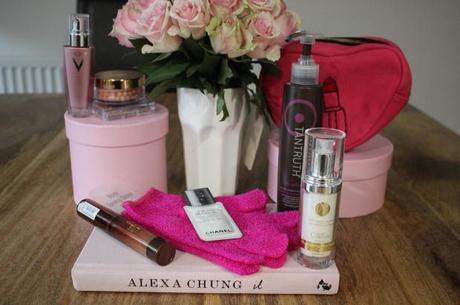 So, now you've seen all of the red-carpet worthy products I used on the night.
Well, almost…
Clinique kindly sent me a waterproof mascara to try out on the night which was so fabulous it deserves a post all of its own. Review coming soon!
Preferences Preferences Preferences § 1 2 3 4 5 6 7 8 9 0 - = Backspace Tab q w e r t y u i o p [ ] Return capslock a s d f g h j k l ; ' \ shift ` z x c v b n m , . / shift English Deutsch Español Français Italiano Português Русский alt alt Preferences