15 Minutes of Fame so Warhol said… Everyone wants it…most need it…and some absolutely crave it. Artists often fall into one or all of these categories.  Not always by choice, if you are trying to "hock" your work you may find yourself trying to get noticed by compromising your own principals.
Some artists embrace the shock factor by doing outrageous art. I won't dignify any of the well-knows but I'm sure you are aware of all those who have defiled a religious symbol just to get attention (jar of urine or ants). Being creative, it doesn't mean heading down to the worst part of town with your camera and taking a photograph of some human laying in a gutter… Enough of the negative…I like people who stand out in an innovative way. Lady Gaga comes to mind. Sheer entertainment and creativity.  Always reinventing. But this is nothing new. The French artist Toulouse Lautrec created a poster for his friend and great Montmartre chansonnier, Aristide Bruant. Bruant was strong, forceful, and in many ways a vulgar entertainer of intimate cabarets, the kind of places where fashionable society went 'slumming' for thrills. Lautrec catches the brutal quality and the disdain with which he treated his audiences. Bruant always wore a long red scarf and a stylized hat wherever he went. Reinforcing his presence and creating a signature look.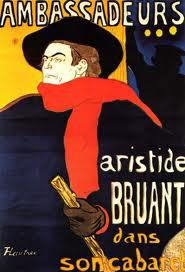 Aristide Bruant - Toulouse Lautrec
Many artists through the centuries have tried to create a personna that people would recognize. Some not so flattering, like Pollock and his made-up cowboy image. He even went so far as to punch people out just to bring attention to himself. Great artist, sorry excuse for a friend. One of the most interesting is Rembrandt. He is the only artist that made self portraits of himself consistently throughout his life. Insuring a legacy of images from young flamboyant painter to a well-seasoned artist living out his last days.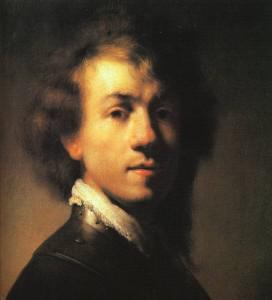 Rembrandt Self Portrait 1629-The Mauritshuis, The Hague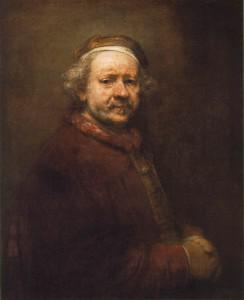 Rembrandt self portrait 1669 -National Gallery, London
In today's world competition is fierce but the opportunities to spread the word about yourself have never been greater. You can make solid honest statements about who you are as an artist. I still don't know why it's important for some to use expletives in their Tweets, Face book and blogs. I know it's sometimes important to emphasise, but more often than not it's just there for attention. And let's not forget the amorous paintings, photos and lifestyles that are wrapped around sex. They are not offensive to me, but I often wonder what's new here???
Demographically it seems like the closer you are to the coasts of America, the more you are compelled to look, be, and/or act outrageous. The attitudes, especially of those who have had a modicum of success can be a case study for any Freudian devotee. It's interesting to me that when you start moving inland the nicer, kinder and more genuine the art and the artists become. And contrary to popular belief a good percentage of them are not trying to live in New York or Los Angeles.  Of course they want to sell their art that in the mind of some is proof that they have value. But I suspect when all is said and done they'll keep on creating and not spend a whole lot of time on becoming The Pretentious Artist.