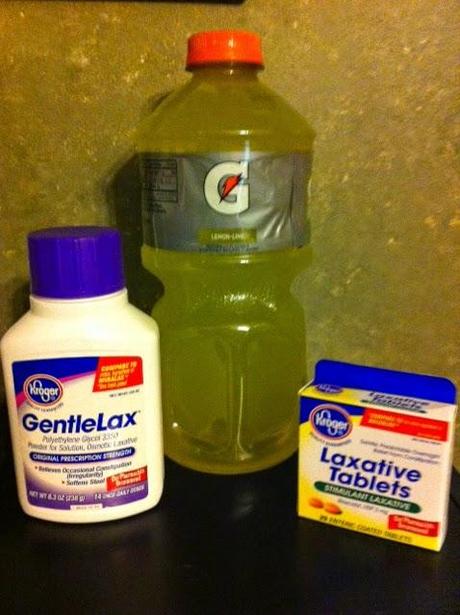 Colonoscopy Prep Items 
It's the prep, it's not the colonoscopy.
I've heard that from many people who have had a colonoscopy. And now I know this is true. But I can also tell you, that the prep was only challenging for about two hours.
And because I read various accounts prior, I was ready.  It really wasn't that bad.
[Note: I am not a licensed medical professional. If you are preparing for a colonoscopy, follow your doctor's instructions, which might differ.]
Because I had a colonoscopy scheduled for Monday, June 9th at 9 am, I had instructions to start my prep at noon the day before.
Briefly stated, the prep took place in five stages:
12 noon to 3 pm: Three hours of fairly passive ingesting of the majority of the prep items.
3 pm to 5 pm: Two hours of active emptying of my bowels.
5 pm to 11 pm: Six hours of moderate emptying of my bowels.
11 pm to 5 am: Six hours of sleep.  (No liquids after midnight or until my screening was complete.)
5 am to 10:30 am: Five and a half hours of waiting in the morning (at home and at the surgery center) until my scheduled screening.
What to Expect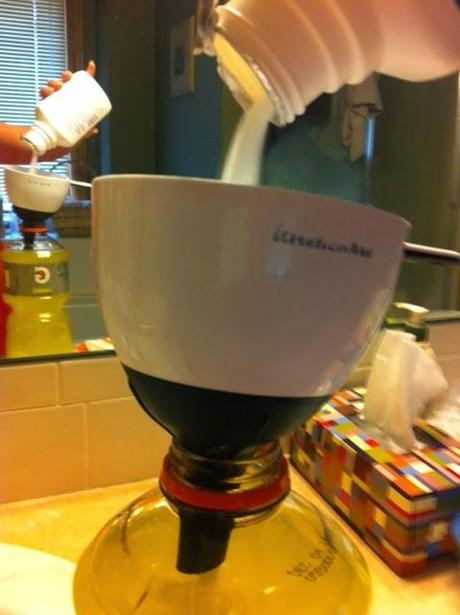 Mixing the Solution
12:00: I took 2 tablet laxatives (biscodyl).  I was able to do laundry, dishes and stage my bathroom for the more active part of the prep.
2:00 pm: I mixed up the 238 grams of polyethylene glycal with 64 oz. of Gatorade, shaking the bottle vigorously after all the powder was added. I used a generic brand where many might recognize MiraLax as a popular brand name.
I had to take about 8 oz out of the bottle in order to make room for the powder.  I never added that back in. I decided that if I ingested all of the laxative, it didn't matter if I was short a few ounces of Gatorade. I could always hydrate more later if needed with broth, water, juice or even that extra Gatorade.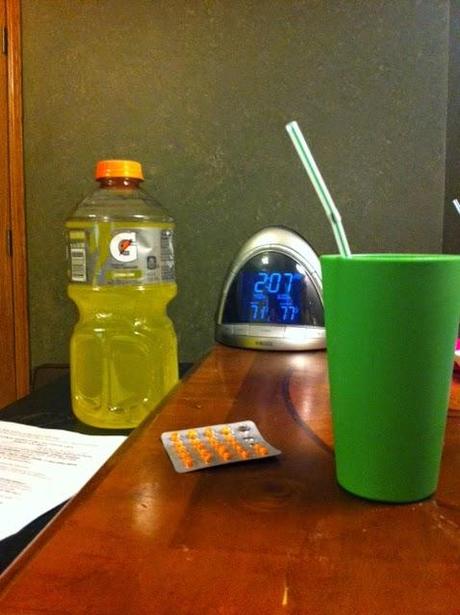 8 oz every 15 minutes
I drank 8 oz. of this mixture between 2 pm and 4 pm until I finished it.  I found the taste to be neutral. It wasn't delicious, but it wasn't distasteful either. I watched the clock on my nightstand so that I paced myself to drink 8 oz every 15 minutes.
3:15 pm: My bowels started actively emptying every 15 minutes.  I was able to stay in my bed for the firsts hour so that I could keep my drinks out of the bathroom and so that I could stay under a heavy blanket. This process made me feel cold.
4:00 pm: I was finally done drinking the prep, and the frequency, so I took up residence in the bathroom.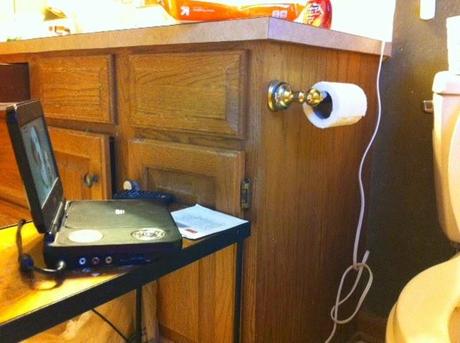 Distracting myself with a movie
My bowels then started emptying about every 5 minutes.
I set up a portable DVD player on an end table in the bathroom earlier in the afternoon, given that many who have been screened advised me to bring magazines, a book, a tablet or a DVD player right into the bathroom. That was a good idea. I watched a 90 minute movie in there, which helped distract me a bit.
By 5 pm, I started using wipes and cream that I purchased in the aisles next to the adult disposable underwear.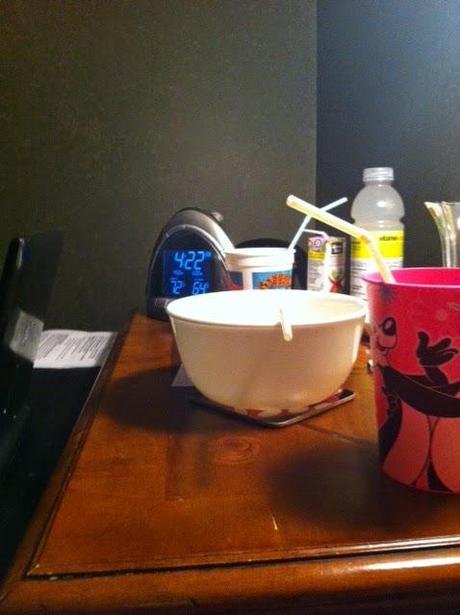 Staying well hydrated
6:00 pm: Things slowed down enough that I was able to return to my bed where I could cover myself with a heavy blanket again to get warm and where I drank broth to keep hydrated.  I only needed to make trips to the bathroom every 20 minutes or so for the rest of the night.
Sunday morning, I made sure to be well hydrated before emptying my bowels. You can see various clear liquids on my nightstand: L-R Broth, water, white grape juice, Zero Water, and Gatorade.
After all those sweet beverages I consumed throughout the day, I craved the broth, which I found tasted like a triple decker
turkey
sandwich.  I tapered off my drinking as the night wore on. I wanted to reduce trips to the bathroom.
8:00 pm: I took another 2 tablet laxatives (biscodyl) as instructed.
11:00 pm: I fell asleep around this time.
5:00 am:  I woke up around 5 am. I was amazed that I wasn't up all night making trips to the bathroom.  I had instructions to not drink ANYTHING after midnight. I forgot and had about 3 oz. of water at 5 am. I talked with the anesthesiologist later who concluded that the water was eliminated prior to my screening, which didn't happen until 10:30 am.
I have some notes about the trip to the surgery center where I got my screening. But I'll leave that for another post.
Related:
Why Get a Colonoscopy?