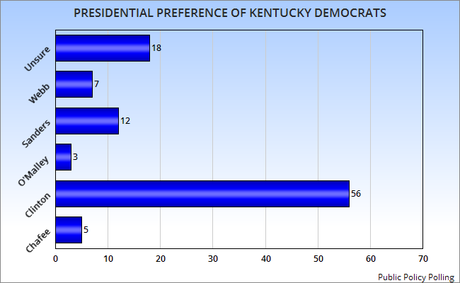 With a recent Public Policy Polling survey (done between June 18th and 23rd of 610 Democratic voters and 413 Republican voters) we get our first look at how the voters of that state view the presidential race. The margin of error is 4 points for Democrats and 4.8 points for Republicans.
Recent polls in New Hampshire have shown that Bernie Sanders is within 8 to 10 points of Hillary Clinton. Kentucky is different. It shows no real movement for Sanders, at least not yet, and he trails Clinton by 44 points.
Rand Paul leads the other GOP candidates in his home state, which is good news for him since he has not been doing real well in recent polls elsewhere. Still, he only registers about 19%. The surprise of this poll is Donald Trump, who finishes with 12% (and trailing only Paul and Bush.