A photo on Twitter got me going on this. A friend on twitter said of this sign, "Power of positive thinking? [sigh]"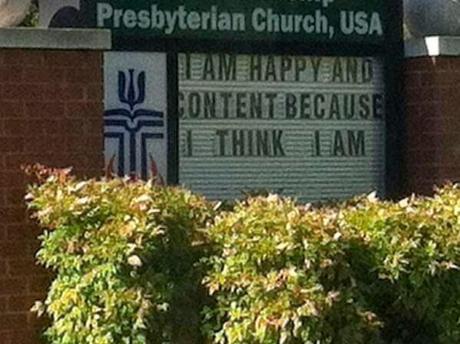 It does make one sigh, because of the futility of such thinking. And the denomination of course is apostate, having just rejected God's standards for marriage and having rejected Israel this very week. The denomination of the PC USA is exactly the kind where Jesus stands at the door and knocks to come inside. (Revelation 3:20).
 So I began to envision different levels of the School of Positive Thinking. Here is the syllabus.
School of Positive thinking, beginner class. "I am Happy and Content because you tell me I am."
Taught by Joel Osteen. Joel has taught the power of positive thinking for 15 years, to great success. He now has a mansion on earth, if not one in heaven. He doesn't seem to mind though, and you won't either, because after this class is finished you will know how to get a good parking space at the mall. You will learn to be happy and content with that. Requirements: bring a bible and hold it over your head. Opening it and reading it not required.
School of Positive thinking, intermediate class. "I am Happy and Content because I think I am." Taught by Beth Moore, who though she teaches with great verve and volume, isn't too sure about, well, anything. We all love her though, that southern cutie-bug! Requirements: ability to cry, hug, and try really, really, really hard in your own power to have faith and do good stuff. Bring Kleenexes. Bible not required.
School of Positive thinking, master class. "I am Happy and Content because I know I am. No really, 'I AM." Taught by Joyce Meyer, who has achieved what few women in the positive thinking genre have achieved: unvarnished and unashamed pride in herself and her thinking. In this class, students will learn how to ignore the pricks of their conscience and the conviction of their souls to stride ahead and not be a sinner, as Meyer says of herself that she's not a sinner. Requirements: Bring money.
Meanwhile, down the street, is a tiny, tiny school. It is open to all, whether you have money or no money. Whether you smile or whether you frown. Whether you cry or whether you have happiness. This school is called: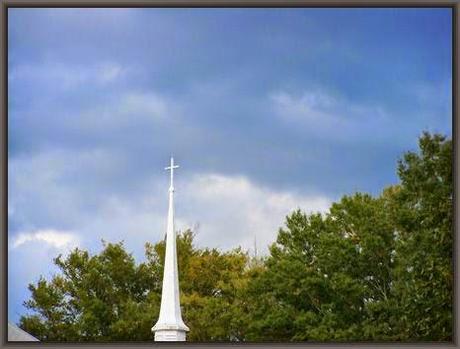 THE CHURCH. This school's motto is "Though I have No Right to Be, I am Happy and Content because Jesus died for me." Taught by persevering unknowns, and occasional guest speakers like Paul Washer, you will learn through study and hard work that Jesus died on the cross to atone for your sins, and pleased with His sacrifice, God raised Jesus on the third day, and brought Him to heaven. You will also learn that Jesus is returning to judge the living and the dead.
You will hear that you are a lost and condemned rebel, needing to rely on the grace of Jesus for everything good in this life and the next. Positive thinking of your own self on your own steam will only condemn you further.
Requirement to enter: Ask Jesus to forgive your sins. Become born again. Prerequisite: sins left at the door, bible eagerly opened and studied, service to fellow man in love and humility. Usually required: ability to withstand slander, rejection, oppression and persecution, in other cases your death will be required.
Enrolling now...