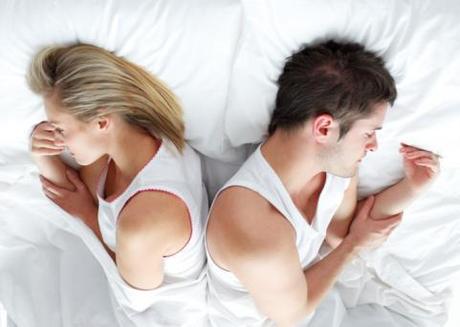 There's been a lot of press coverage this week about the recently launched 'Power Pillow'. The brainchild of a Canadian-based company, the pillow houses a 12000mAh lithium-polymer battery pack, with two USB ports to charge your phones, tablets or any USB device.  It promises to '… recharge your body, mind, phone and tablet all at the same time'. Genius idea or just bonkers, we'll leave that up to you to decide, but it did get us thinking about the power of the pillow!
As important as your mattress, a good quality, comfortable pillow can significantly reduce any neck, back or shoulder pain experienced when sleeping. Pillows that have become lumpy or discoloured will no longer provide proper support and could contain high levels of dust mites and skin; a nuisance for allergy sufferers. Although many pillows are fully washable, it is advisable to replace your pillows every two years.
Types of Pillows
In recent years we've seen the humble pillow develop into an array of different types, textures and fillings. Essentially though, pillows contain either natural or synthetic fillings. Natural filled pillows will keep their shape and level of support for longer than synthetic, but it is still recommended to plump your pillow daily. Synthetic pillows can be made from visco-elastic, polyurethane foam, latex, gel or fibre-filled; and any combination of these.
Offering good support and pain relief, memory foam pillows are usually soft and smooth contouring to the shape of your head and neck. More long lasting and made from a natural material, Latex Pillows are cooler than memory foam and have great pressure relieving qualities. Gel Pillows provide a unique massage effect from their gel center and provide added softness.
Natural filled pillows containing either goose down, duck down or a complement of both. The more down or feathers contained in the pillow, the firmer it tends to be. Down filled pillows tend to be softer than feather and are priced at the higher end of the pillow market. Like your mattress, it's recommended that you consider a good quality pillow protector to keep your pillows in optimum condition and ultimately fresh and clean.
Our Pick of the Best Pillows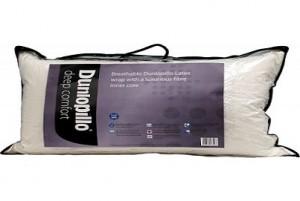 The Dunlopillo Deep Comfort Latex Pillow is a deep latex covered pillow with a luxurious fiber core filling. Designed to retain its shape, this firm support pillow provides a comfortable and healthy night's sleep.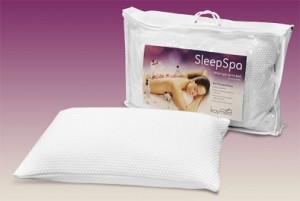 The Kaymed Gel Therapy Pillow is a deluxe gel and microfibre pillow benefiting from a unique massage effect from its gel center and added softness from its micro-fibre surround. The Kaymed Gel Therapy Pillow helps to maintain the correct posture whilst sleeping, ultimately providing a great night's sleep.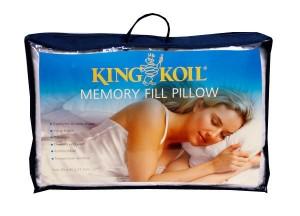 The King Koil Memory Fill Pillow is designed in a traditional pillow shape and is made from Quality Visco Elastic, a temperature senstive material that is designed to help Relieve Pressure on the Head and Neck. Moulding to the shape of the upper body, the King Koil Memory Fill Pillow supports the head perfectly, resulting in the ideal sleeping position. Antimicrobial, this pillow is an ideal solution for allergy sufferers.
The Bedroom Couture Back Rest Pillow is part of the  own brand collection of Quality Pillows, Duvets, and Mattress Protectors range. This V-Shaped Pillow provides excellent support for the Back, Neck and Shoulders and is an ideal solution for Nursing Mothers and for those that like to sit up in bed to read or watch TV. Complete with a Hollowfibre Filling, the Bedroom Couture Back Rest Pillow has the added benefit of being Fully Washable for sustained freshness.
What to do Next
As a stockist of some of the leading bedding specialists in the UK and Ireland including King Koil, Kaymed, Pownall & Hampson and Dunlopillo Latex Pillows, Armagh Beds.com and Dalzell's of Markethill have an extensive range of pillows and pillow protectors in store and online. Remember, at Dalzells there's also Free Delivery across Northern Ireland and Dublin, Monaghan and Louth (daily services to Belfast and Dublin). If you don't see a model that suits you online, visit our showroom located in Markethill – conveniently between Newry and Armagh, we're just a short drive from Lisburn and Portadown. So whether you're based in Belfast or Dublin, Telephone us on 028 3755 1260, Email or visit in-store for a great deal.