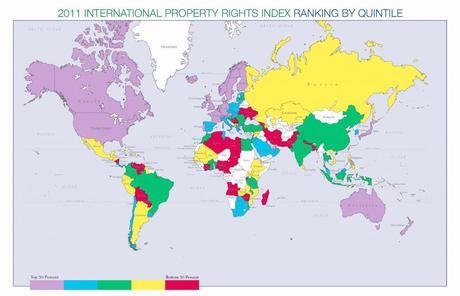 (Image source: http://www.internationalpropertyrightsindex.org)
Secure and accessible property rights are the lifeblood of a market economy. Yet in many countries around the world those basic rights remain weak or inaccessible to large segments of the population, especially women. This year's edition of the International Property Rights Index (IRPI), released this week, highlights such discrepancies in its ranking. The index uses three key areas of property rights: Legal and Political Environment, Physical Property Rights, and Intellectual Property Rights. The scores show clear differences between countries with strong property rights and those where property rights are weak or ill-defined. Sweden and Finland share the top spot; Venezuela is last out of 129 countries ranked.
Countries falling in IPRI's first quintile have an average GDP per capita of $38,350, which is more than double of GDP per capita of the second quintile (average of $18,701). The three bottom quintiles, respectively, average $9,316, $5,065, and $4,785. The above world map pointedly illustrates those differences.
This year's edition is the fifth one since the first report was published in 2007 and it has grown significantly since then in terms of country coverage (the first edition evaluated just 70 countries). The latest report also continues expansion in another important area: property rights and gender equality. The report observes:
"Gender equality is often taken for granted in developed countries, while in many developing countries there are striking disparities in property rights between men and women. Women play a crucial role in the economic development of a country, but they are often denied rights to property either by law or by custom. These practices not only deny women a secure income, but they also ensure future generations will have to deal with a similar level of poverty."
To account for that pervasive gender inequality when it comes to property rights, IPRI introduced a weighted formula to modify its developing country scores. This measure of gender equality is based on five indicators: women's access to land, women's access to credit, women's access to property other than land, inheritance practices, and women's social rights. In the current report, 83 non-OECD countries were ranked this way.
Learn more and read the full 2011 report as well as previous editions here: http://www.internationalpropertyrightsindex.org/