IT'S ABOUT TIME!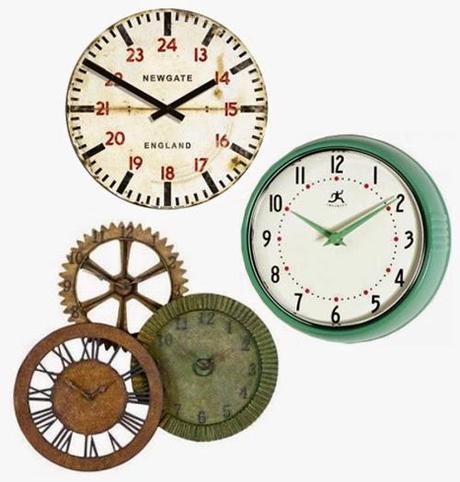 Time flies when you are having fun.  
Time waits for no man.  
Time is of the essence.  
Time is money.  
One of my favorites was on one of my high school teacher's desk, which said, "Time is passing.  Are you?"  
Of course, there is the favorite of many, Time heals all wounds.  Or, as one of the Kooky Plaks I used to have said, "Time wounds all heels."
Time can do a lot of things.  And there are lots of views about time, but do you think time actually heals all wounds?  I'm not so sure.  I do think the intensity of the pain from a traumatic event tends to diminish over time, but diminishing is a not the same thing as healing.  
I also think that one's focus on a painful event will also diminish as time moves on and new experiences and opportunities take center stage.  But again, that is not the same thing as healing.  Finally, the new perspective about an event that one gains by being able to look back on it from the distance of time makes a difference in the impact of that event, but again, that is still not the same as healing.
The wounds of divorce can run deep, as do the wounds from abuse, molestation, war combat, abandonment, rape or any of the truly traumatic events of life.  What can we count on time to do?  
It would be nice to say that as time passes things get easier, but that is not always the case.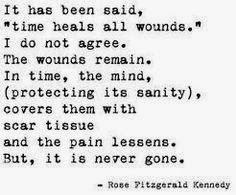 Speaking from the context of divorce, there are many differences that time makes.  Some of them are good, some not so good.  Financially things can get better, because usually you will be paying fewer attorney fees (and hopefully eventually none), and issues like child support checks and maintenance (alimony) go by the wayside.  Emotionally things generally improve, depression and mood swings start to dissolve as you begin to stabilize into a new life situation and have fewer entangling issues to stir things up.  In terms of the perspective time gives, that also is an improving thing, because you can begin to see life and marriage through different lenses, and maybe even realize that how things were wasn't such a great relationship after all.  Time mercifully shifts your focus away from the pain of the divorce, because there are new life choices to be made and bills to be paid, and the encounters with the court and your ex become fewer and fewer.  And so it is very true that the passing of time does make a difference.On the other hand, time can never heal the sense of loss that one experiences, as you no longer have the opportunity to share together about the memories of your children's young life, and no one to fill in the blanks or help you remember details.  Time can never give back the years spent in a relationship that may have been doomed from the start, though you may have tried and tried to make it work over the years.  Time will bring perspective about your failed marriage, but it will not change the fact that the marriage failed.  Sometimes one spouse plays mind games with the children, resulting in hurtful relationships that extend for years.  Even scheduling for time with your children for holidays serves as a reminder of the ongoing complications of divorce.  There are things that time does not heal.Time plays an important role in healing, but doesn't bring healing itself.  Just as a physical wound will heal over time as long as it is properly cared for, and will fester and grow worse if not treated right, so the wounds in our hearts can experience healing or festering, depending on the care we provide.  Nursing of grudges and hurts, rehearsing over and again slights suffered and dwelling on the memories of mistreatment lead to the festering of grudges and bitterness, poisoning our personality and our relationships.  Allowing time to instead provide some perspective and perhaps some distance from the intensity of the struggle is a step in the direction toward healing, especially if you utilize the time to learn the art of forgiveness. But the deepest healing comes when we lay our hearts open before God, with all the hurts, all the resentments, and those terrible things that plague our memories, and invite God to guide us in the right direction and provide the healing we cannot achieve on our own.  Psalm 147:3 specifically assigns this role to God, where it says that, "He heals the brokenhearted and binds up their wounds." ----ESV    

Healing doesn't mean your life hasn't changed or been affected.  Nor does it mean you no longer remember.  But it means that the wounds no longer have the power they once did, and that the direction of their influence is toward less impact, rather than growing into bigger issues.  
Remember, even Jesus had scars to show the disciples from the wounds he suffered.  But those scars did not prevent him from entering into life in its fullest sense, nor need they prevent us either.  And, by the way, thanks for "taking the TIME" to read my little blog today.