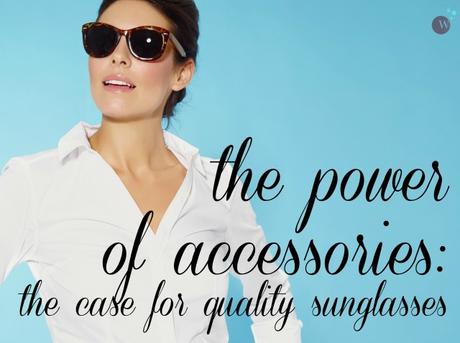 I was a lifeguard every summer of college. At some pools, I wore the requisite red one-piece with the white cross on the front. At others, they let me wear the swimwear of my choice. But at all, it seemed important... no NECESSARY to have cool sunglasses. Sitting in that chair, twirling the whistle, you had to look tough and cool behind your shades. The must-have sunglasses were Oakley Frogskins. I had some cheap copies but finally saved up enough for the real deal. The store had a 2 for deal so I bought clear with red mirrored lenses, and black with blue mirrored lenses. I was so PSYCHED! I continued through the mall, did a bit of shopping, went to the food court... and realized I left my new sunglasses in a department store fitting room. Raced back and of course they were gone. Burned by the experience, I didn't buy nice sunglasses for years and made do with cheap knockoffs from discount marts, street vendors, and even the occasional truck stop.
Then I became an adult. I learned how to take care of my things, and started understanding how quality surpassed quantity. My family and I went on a trip to Italy, and there I bought a pair of Gucci sunglasses. The shape, the weight, the view through those lenses... I saw how these weren't anything like truck stop shades. I cleaned those Gucci sunglasses with a proper cloth, stored them in a hard case and well... I still own those Gucci sunglasses and they still look like new.
Sunglasses are a powerful accessory. They can really create a signature look and define your personal style. I bought my first pair of Ray-Ban aviators a week before Emerson was born. I was on bedrest but going slowly insane. My midwife appointment was down the street from Annapolis Mall and after my checkup, my mom, sister, and I went into Nordstrom. My mom said I could have 30 minutes on my feet and I raced around the accessory department and bought a pair of silver earrings and my first pair of Ray-Bans. Total retail therapy; it was December and I was homebound but I put on those aviators and those earrings and felt that though I was a swollen beach ball, I still retained a bit of Alison. It also made me realize how much I like aviators, and they are now part of my signature look. And like my Italian Guccis, I find that even with equal care, my Ray-Bans fit, feel, look, and perform far better than any cheapy knockoff. Once I was over 30, I realized even more how a quality pair of sunglasses can complete your look just like a quality bag, great pair of shoes, or a fabulous haircut.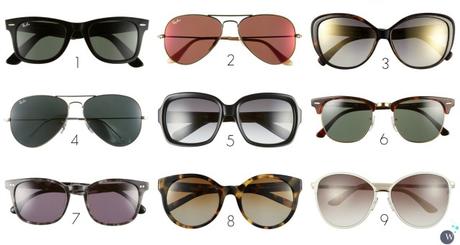 Sunglasses are a quick way to give your look a dramatic update. It's easy to grab a pair and wear them until they break or get lost, but often we purchase without thinking long term. One should think not just of quality, but a style that flatters but will still look stylish after one season.Nordstrom asked me to share my favorite fall sunglasses styles; below I'm sharing styles I think can create a signature look and complete one's personal style without looking dated in a year.
They looked cool in the '80s and they still look so cool now. The 'Classic Wayfarer' from Ray-Ban is simple, sleek, and oh so sophisticated. I'm partial to the original black or tortise, but they now come in a variety of colors and textures that can flatter more skintones and personal styles.
Ray-Ban's original 58mm aviator sunglasses have been in style for decades. Ray-Ban hasn't changed the style, but now has a bevy of lens colors to fit the personal style of anyone. Show off your signature color while keeping your shades classic; I'm a fan of the Red Mirror (sort of reminds me of my lifeguarding Oakleys!).
MARC BY MARC JACOBS' 58mm 'Retro' sunglasses are a classic. The brand has been selling this style for a while, and it makes sense because it's an elegant oversized style that flatters so many faces. While it's a large shape, it's not heavy and isn't prone to sliding down the nose. Tortoise or black, you can't go wrong.
The Ray-Ban 'Large Original' 62mm aviator is my signature sunglasses style. I've got a pretty big and round noggin and the oversized shape ends up looking just right on me. My personal preference and everyday pair is the classic gold frame with green lenses; however I have been eyeing the fun tinted colors they now have available.
Before I became an aviators gal, I loved an oversized black plastic frame with a squarish shape. I thought it looked modern, strong, and was a nice balance to my round face. 'The Sara' from Bobbi Brown is one I would have picked up in a second, and would wear now if I hadn't already found my signature look. Bold, modern, yet completely wearable and three great colors to choose from.
When I was in high school, I had a cheapy version of the Ray-Ban 'Clubmaster' sunglasses and felt so cool. It's amazing how this frame is still in style and still makes people look so casually cool when they wear them. I had tortoise and gold frames back then and they still are my favorite.
Good looking sunglasses that do good - the TOMS 'Noah' frames have the classic styling of the Wayferer but with a rounder, more feminine shape. With TOMS' One for One® program, the company will help give sight to a person in need with each pair of sunglasses purchased.
A perennial favorite for quality and face flattery, Tory Burch's 54mm Cat Eye sunglasses are a great purchase. Polarized lenses are great when driving or in harsh sunlight, the style is classic and will look great for years to come.
Tom Ford's 'Penelope' 59mm sunglasses have a retro vibe yet look oh so modern and sophisticated. This is a feminine frame with slim, clean lines and metal details. This is a frame that would look good on a multitude of face shapes. It comes in three frame colors; I'm particularly drawn to the ivory/rose gold combination.