Date: May 11, 2016
Posted by Litcom Team
Category: IT Assessment

Today, more than ever, companies are scrutinizing the value they receive from their IT. Given all the advancements in IT, it is difficult for companies to assess this value using internal resources. Litcom provides a comprehensive and thorough review of your company's technology systems and environment. We will appraise how the technology helps or hinders your organization and provide a written evaluation and recommendation on how to use technology in order to best meet your company's business goals and objectives. We use leading practices and industry recognized methods as part of our assessment.
Why is conducting an IT business assessment important?
Discovering potential issues and risks before they can cause a project to fail or be delayed—is the driving force behind an IT assessment. Our IT Assessment not only plays an integral role in providing a snapshot of your company's technology capability; it also provides your organization perspective on the effectiveness of its systems, staff, budget, vendors, procedures and company policies. At Litcom, we recognize that maximizing your technology investment and efficiently supporting the business is the path to competitive advantage. We can help you improve technology ROI and align IT investments with your overall business strategy.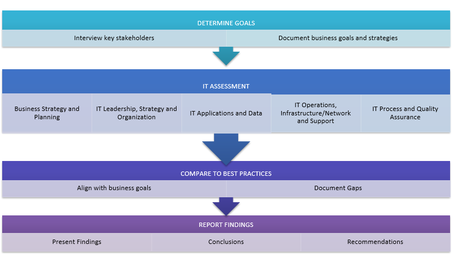 The Power Behind an IT Assessment 
Litcom's IT assessment service will help your organization improve technology ROI and align IT investments with your overall business strategy.
Our assessment will help you better understand and take action to:
Ensure effective leadership, management and governance of the IT function;


Reduce IT risks and exposures;

Control costs and decrease project and other investment overruns;

Improve security and disaster recovery processes; and

Build improved capability to successfully deliver projects on time and on budget.
I am interested in an IT Assessment
News Categories
Business Analysis
Data Visualization
Digital Strategy
Enterprise Security
ERP Optimization
Information Security Health Check
Information Security Program Development
IT Assessment
IT Management
IT Staff Augmentation
IT Strategy
Merger & Acquisition Due Diligence
PCI Compliance
Post Merger Integration
Procurement Process Improvement
Project Management
Threat Risk Assessment & Penetration Testing
Vendor Selection
Archives
May 2016
April 2016
March 2016
February 2016
January 2016
December 2015
November 2015
October 2015
September 2015
August 2015
July 2015
June 2015
May 2015
April 2015
March 2015
February 2015
January 2015
December 2014
November 2014
October 2014
August 2014
July 2014
June 2014
May 2014
March 2014
February 2014
October 2013
June 2013
May 2013
April 2013
March 2013
February 2013
January 2013
December 2012
November 2012
October 2012
September 2012
August 2012
July 2012
June 2012
April 2012
March 2012
June 2011
May 2011
Stay Connected
265 Rimrock Rd., Suite 202
Toronto, Ontario M3J 3C6
phone: 905 763 8900
fax: 905 763 8233
email: [email protected]
Recent Posts
Information Security Health Check
Why is conducting an IT business assessment so important?
Digital Customer Experience—Big Trends and Best Practices for 2016 (SlideShare)
Reference Links
IT Assessments
IT Assessment
Assessing the Value of IT in your Organization
How can your organization benefit from an IT assessment?
Conducting an IT Assessment