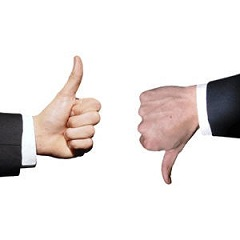 As with every trait or personality type there are strengths and weaknesses. Some things you'll be good at and others you won't be. This only further emphasizes the importance in recognizing where your weaknesses are and how you can counteract them.
Investing is no different. A team full of ROI Investors may overlook a brilliant technology because the numbers aren't where they want them. A team of Passion Investors may not choose a company with strong numbers because they don't believe the technology is disruptive enough. Alone or as a pack a single investor type is weak. Filling out your team with different investor types helps to mitigate risks and open your eyes to different investment opportunities.
The ROI Investor:
Plus: Numbers.  You understand where the numbers come from and what they mean. Balance sheets, proforma's, forecasts and projections are your bread and butter.
Perils: The team becomes secondary. Since your focus is placed so strongly on what the numbers report there is a significant chance you miss out on the potential that the team behind the startup represents.
The Passion Investor:
Plus:  Innovation. You don't see a balance sheet, instead you see the disruptive technology behind the numbers.
Perils: As a Passion Investor your investment goes far beyond just a dollar value and can require significant amounts of time and energy. Due to this you have an inclination to hold on to your investment longer than numbers may suggest.
The Support Investor:
Plus: You go beyond the idea and the numbers and invest in the potential of the team. Knowing their past and experiences, more importantly the past and experiences of the CEO helps to guide your investment.
Perils: Your intimate knowledge of the team behind the startup is a double edge sword. Knowing the team on such a level and the loyalty you have for them can keep you from exiting an investment when you should.
The Contribution Investor:
Plus: Your attachment to the outcome drives your investment. Your desire to help the community (demographic, geographic etc.) helps these startups get up and running.
Perils: Often these startups are not labelled as strong financial investments and require structuring from other investors to be profitable.