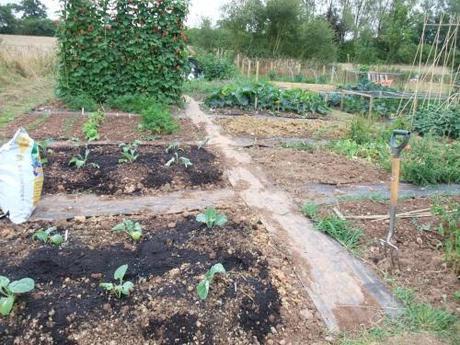 I have nearly come to the end of just over a weeks annual leave and I have managed to spend a couple of hours on six of those days at the allotment.  This has made a real difference and I am beginning to feel more on top of things.  There is still masses to do but if I hadn't spent the time I have I would really be struggling.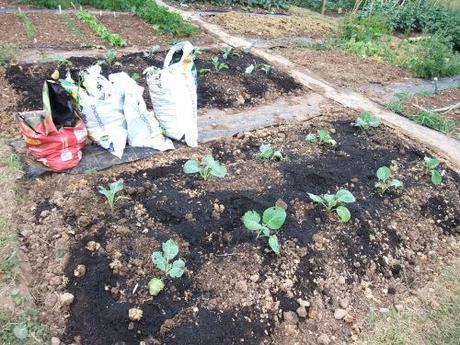 I have lifted all the garlic, red onions and shallots and these are mostly dried and stored either plaited or hanging in bunches in the garage.  I have weeded the two beds they were in. I'm still removing perennial weeds mainly couch grass and creeping thistle but as I haven't had the plot for a year yet this is not surprising.  I added a couple of bags of spent hops to each bed and also several bags of the local council compost. In these beds I have planted out Savoy Cabbage and Spring Cabbage.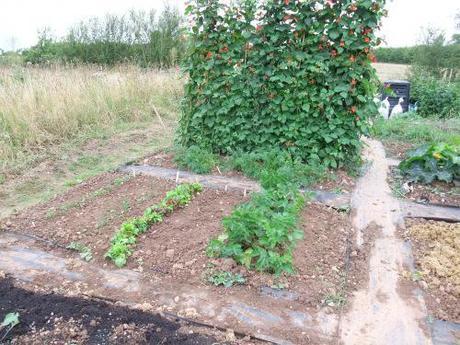 Mum's runner beans with my parsnips and salads in front
I wasn't sure until today where the spent hops came from just that every so often bags of it appeared in the car park for us to help ourselves to.  However, it goes very quickly so you have to grab it while you can.  I keep missing out as it is delivered in the morning and by the time I normally get there it has already been nabbed.  Today was a real result as there was only two of us at the site and my fellow allotment holder got me six bags which should keep me going for a while. He told me that the farm just down the road is a sort of wholesaler for the local micro brewery and therefore has lots of spent hops to get rid off.  The arrival of the allotments is a god send to it as it solves their disposal problem.  I doubt if there are many nutrients in the hops but it does work well in aerating the soil and helping to break the structure up.  It also smells wonderful so you can get quite merry without a drop passing your lips!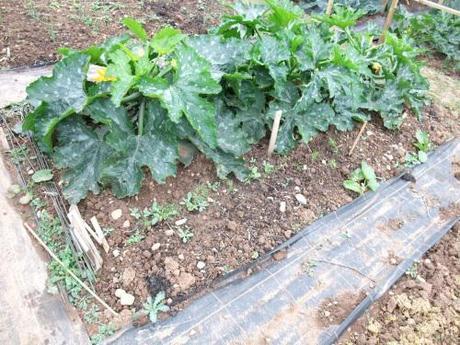 Too many courgettes with florence fennel seedlings in front
The peas and broad beans have also finished.  Sadly the peas were hit by pea moth which I hadn't heard of until I investigated what the maggots might be.  It turns out that you have to sow early and late to avoid their flying season.  I am now digging over these beds in order to sow green manures before planting out onion and garlic sets in the Autumn and Spring.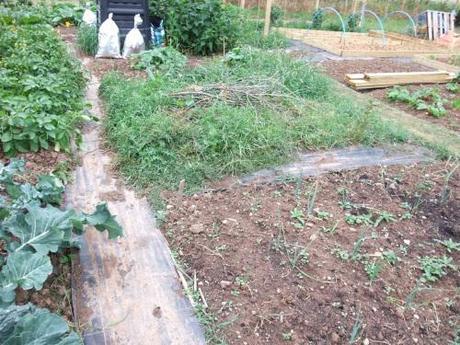 Leeks in need of weeding and uncultivated big bed
I still have one large bed which I haven't cultivated much of and I really want to get dug over.  I have some Butternut Squash at the end I have dug over and I need to clear the rest of the bed before it spreads though it is very slow to get going so I should have time.  This is the one job I had hoped to get down this week but haven't mainly because I set myself impossible targets and also because it rained today.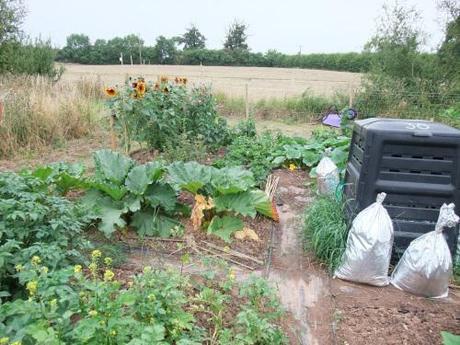 top of potato patch with fruit area behind
Harvesting wise we are steadily working our way through the potatoes.  I like Inca Belle although it needs less time to cook than you expect which is fine now I know this.  Charlotte has been OK and Piccolo Star is proving to be very prolific.  However, none of them are as tasty as Rocket we had to start with and I will definitely be growing more of those next year.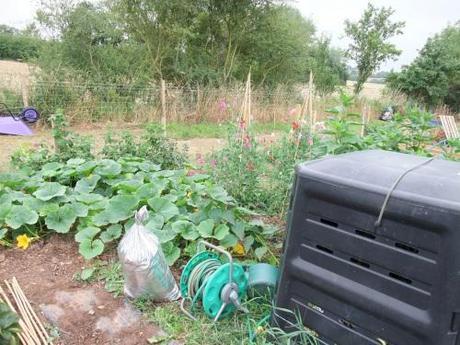 Squashes
Courgettes are going well although in hind-sight I realise 3 plants is probably at least one too many when it is mainly only me eating them.  I think next year I will try one of the yellow round courgettes as well as the normal ones or maybe a striped one.  I don't suppose there are any late cropping varieties that I could extend the season with?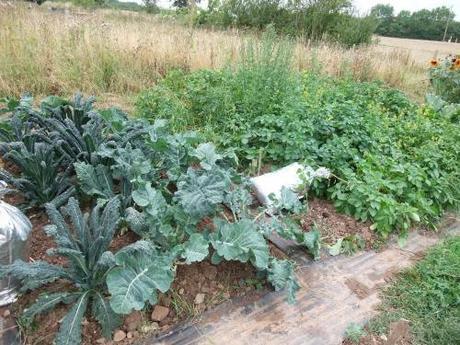 PSB, Carvelo Nero, potato patch and the silver hop bags
The leeks are in but not getting going as much as I would like.  Purple Sprouting Broccoli and Carvelo Nero are looking good and I am wondering whether to start harvesting the Carvelo Nero.  I am really pleased with my Uchi Kuri Squashes – they are romping all over the place and have lots of fruits on them so hopefully I should have a good harvest.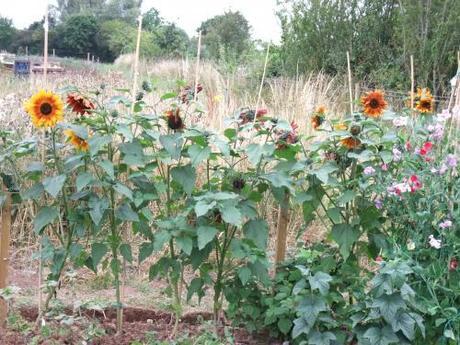 Sunflowers look great - haven't heart to cut them
Fruit wise hasn't been so good but I understand that the plants often need a year to settle.  However on the floral  front the sweet peas  have been fantastic despite the late start and the sunflowers are also going great guns.
The only real downside has been the dead grass snake I found tangled up in the netting on my Mum's bed (she has masses of runner beans and a nice crop of carrots).  This really upset me so I have removed the netting that was over the PSB and Carvelo Nero and I have been spraying with a homemade garlic spray which I am hopeful will deter the Cabbage White Butterflies.  I am going to rig up some CDs later to try to deter the pheasants and pigeons.  If this fails I will have to resort to Enviro-Mesh on hoops but I'm not keen as it's all extra expense.
I am really pleased with the progress  I have made since November when the plot was little more than a ploughed field.  Who  knows what I will achieve next year.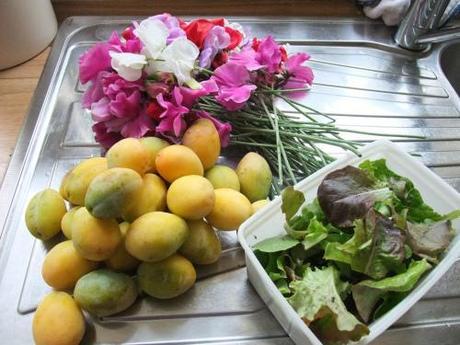 Today's harvest Sweet Peas, salad leaves and hedgerow plums
A final bonus was discovering today that there are plums in the hedge along the side of the site so I came home with enough to make some jam which  will be the first preserves I make from the plot.  I also  noticed there are lots of blackberries in the hedgerow so I am hopeful  of blackberry and apple crumble later in the year.